Hemp Seed Oil & Your Skin: The Ultimate Guide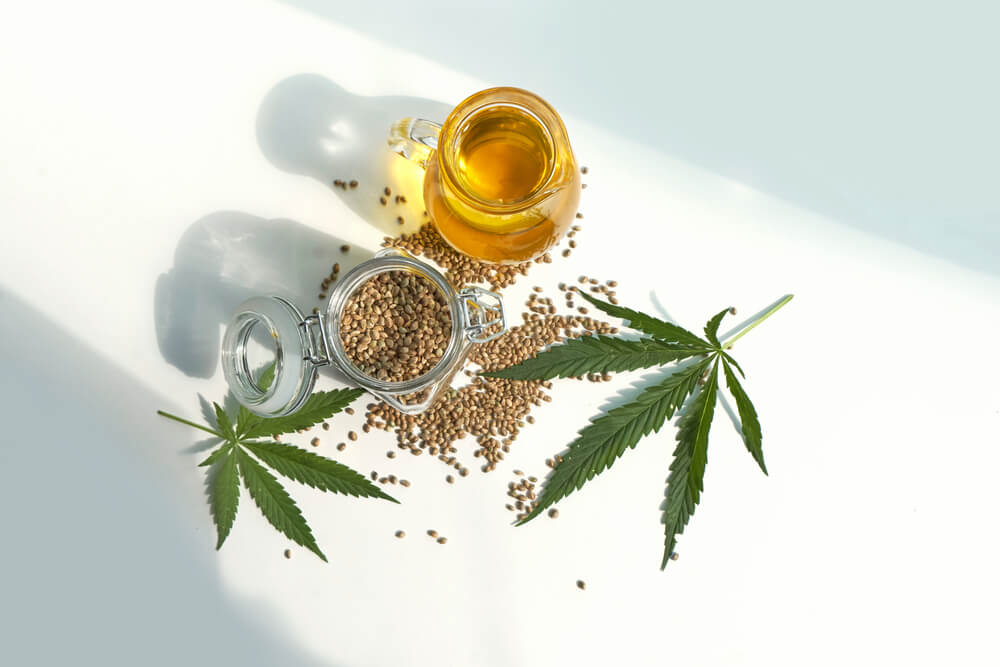 Let's admit it—hemp seed oil isn't exactly the world's number one go-to when it comes down to nourishing oils for the skin. It's not the no-brainer coconut oil or cult-favorite shea butter, that's for sure.
No, hemp seed oil is a bit more mysterious to most of us, and it's quite intriguing because of its origin. But this powerhouse oil is loved by many all over the globe.
From those with acne and other delicate skin conditions to mature women who want to preserve their youthful glow, hemp seed oil is the hidden gem of the modern skincare world.
It's not the most mainstream ingredient in skincare today. But once you learn of its magic, you'll be left wondering why it isn't, and why you've gone all your life without incorporating it into your skincare regimen.
What is Hemp Seed Oil?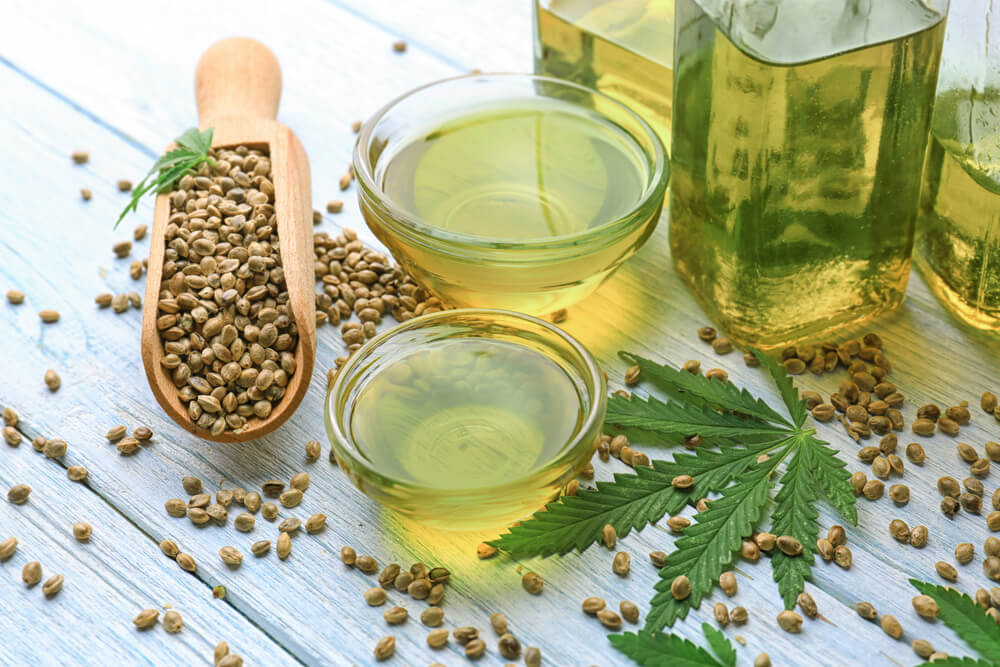 Hemp seed oil is a rich oil harvested from Cannabis sativa seeds and leaves. It's usually cold-pressed and unrefined to keep all the nourishing nutrients in the oil. It has a subtle green hue and a nutty flavor.
But wait – cannabis? Is this thing illegal?
Many people confuse hemp seed oil with CBD oil, which is derived from the marijuana plant. The confusion stems from that CBD contains extracts from hemp flowers. However, hemp seed oil doesn't contain any CBD, so you don't have to worry about any psychoactive elements messing with your head.
So no, the origin of hemp seed oil is completely safe for everyone to use and won't get you into any trouble. In fact, it only has fantastic benefits because of its chemical make-up.
It's rich in omega-3 and omega-6 fatty acids, which is why it's so moisturizing. It also has nine different kinds of amino acids, which allow your body to produce protein. Because of these, the seed is both a hydrating and strengthening oil for your skin and overall health.
What Are the Benefits of Using Hemp Seed Oil on the Skin?
Because of how rich it is in good, unsaturated fats and fortifying amino acids, hemp seed oil has many benefits for the skin. It comes as no surprise, then, how skincare loves from the West all the way to the shores of Asia are slowly adopting this gorgeous oil into their routines.
Here are just some of the benefits high-quality hemp seed oil can provide for your skin:
It's Deeply Nourishing
Hemp seed oil is an amazing hydrator and moisturizer because of its omega fatty acids and linoleic acids. These healthy fats work to improve the structure of your skin so that it can get better at retaining moisture.
It nourishes the skin, improves elasticity, and repairs the skin barrier so you can have plump, bouncy, and healthy skin. The best part is that it doesn't clog your pores, so you can use it to replenish your skin of moisture, even if you have oily or sensitive skin.
It Helps Manage Sebum Production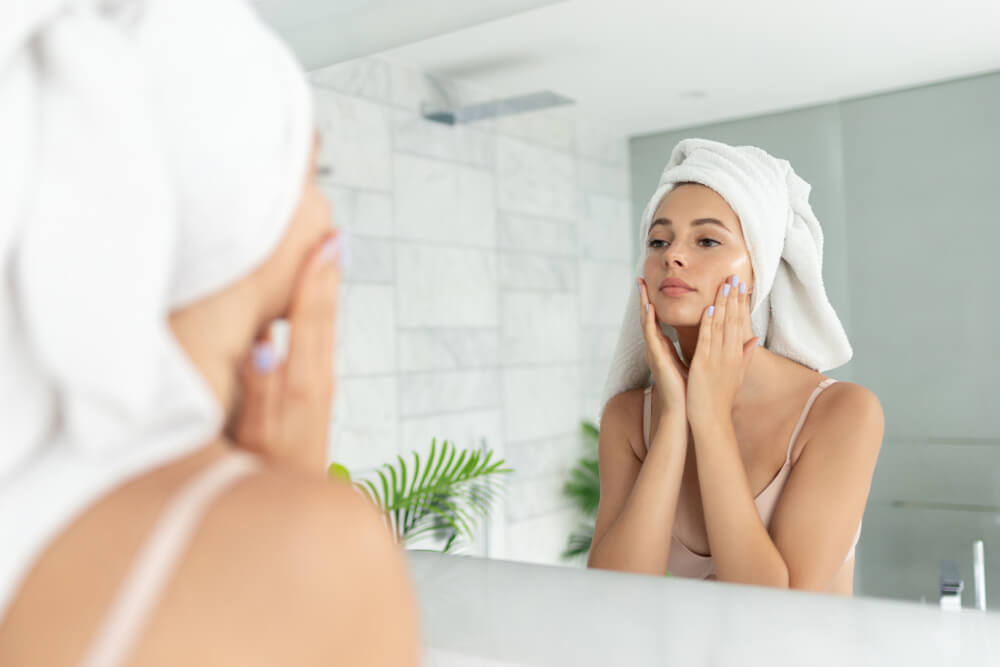 Thick oils are scary if you suffer from acne-prone skin, especially when your sebaceous glands tend to produce a lot of oil throughout the day. But contrary to what many assume, botanical oils are exceptional at balancing out your skin.
Hemp seed oil is non-comedogenic, meaning it won't clog your pores, so you don't have to worry about breaking out even if you're prone to pimples. It's also impressive at managing your sebum production throughout the day if you use it regularly.
It sounds silly, I know. How does oil regulate oiliness on your face? Here's how it works.
When your skin is parched and extremely dry, it overcompensates by going into overdrive when it comes to oil production. So the key to making sure your oil glands don't go out of whack is hydrating properly with, say, a cold-pressed hemp seed oil.
It has conditioning properties that allow your skin to glow without looking super greasy and shiny, so it's a no-brainer if you have uncontrollably oily skin.
It Has Anti-Aging Properties 
If you're starting to be more concerned about small lines and wrinkles in your forehead or by your eyes, then listen up. Hemp seed oil is amazing at eliminating fine lines from aging, thanks to its linoleic and fatty acids, which are known to be anti-aging warriors.
The hemp seed oil also protects your skin from oxidative stress, or damage to the skin caused by free radicals in the environment, like pollution. This leads to the development of wrinkles in the long run, so it would be wise to protect your skin from it early on.
It Brightens Up Acne Scarring
First, it's worth noting that hemp seed oil has anti-inflammatory and antimicrobial properties that fight against active acne, so it addresses scarring from the root cause.
Once your pimples turn into those dark, persisting spots on your face, the role of hemp seed doesn't stop. It contains certain compounds that can speed up the healing process of your acne.
It also helps boost collagen production, promoting faster cell turnover. That means it can speed up the process of sloughing off those dark spots to reveal younger, clearer, smoother skin underneath. You have the linoleic acids to thank for that since they're excellent at removing excess melanin on the skin.
It Soothes Red, Irritated Skin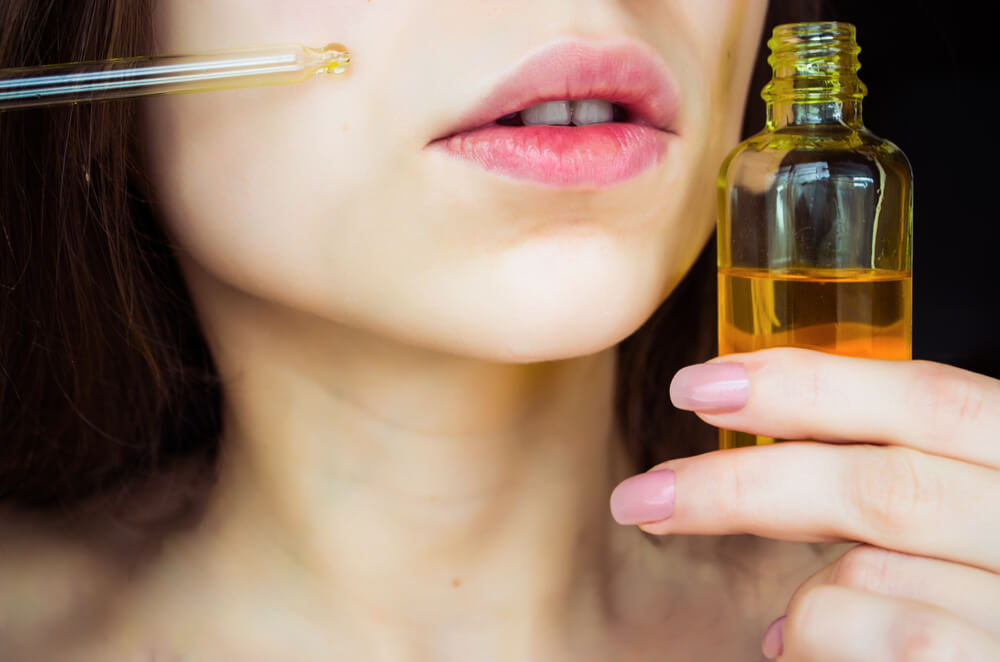 Hemp seed oil is also perfect for calming inflamed skin, be it from an uncomfortable sunburn or an allergic reaction to your seafood lunch. In many cases, applying the oil directly to inflamed areas of the skin can provide instant relief.
This is because hemp seed oil's omega fatty acids and gamma-linolenic acid have highly efficient and potent anti-inflammatory properties that help your skin take a breather and calm down. It also helps diminish redness and itching from your irritated skin.
It Helps Fight Infections on the Skin
We've been talking about hemp seed oil's awesome anti-inflammatory and antimicrobial benefits, so let's not leave out the obvious. Hemp seed oil is useful for killing bacteria and fungi that can cause diseases and infections on the skin.
Because its fatty acids strengthen the skin, it also builds up your resistance against possible microbes that can latch onto your skin and infect any wounds or pimples.
It Improves Blood Circulation
Hemp seed oil is rich in vitamin E, a popular skin vitamin that improves the elasticity of the skin outside and helps produce red blood cells in the deeper layers.
Making sure that red blood cells stay healthy and oxygenated by ingesting hemp oil boosts blood circulation across different organs. It also ensures that your blood is strong and rich in nutrients.
To be honest, I could go on and on about other benefits of hemp seed oil for different parts of the body when ingested orally. These include the ability to reduce the painful, uncomfortable symptoms of PMS and menopause, and how it's incredible at lowering anxiety and stress levels.
Another mindblowing thing about this wonder oil is that it helps decrease your risk of heart disease thanks to arginine, an amino acid found in hemp seed oil's composition. So not only do you get beautiful, hydrated, glowy skin—you have the potential to improve your cardiovascular health too!
Hemp Seed Oil: The Answer to Your Problematic Skin's Prayers?
If you suffer from delicate skin conditions like eczema, psoriasis, or rosacea, chances are you know how difficult it is to find a regimen that can help stop all the flare-ups and itchiness. But could hemp seed oil be the godsend you've been waiting for?
Quite possibly.
Hemp seed oil contains gamma-linolenic acid, which has powerful anti-inflammatory properties that soothe and relax angry, inflamed skin.
It moisturizes the skin deeply too. That can also solve issues with dry skin and scaly patches, like one would have to deal with during episodes of seborrheic dermatitis.
It also reduces the distracting symptoms and appearance of atopic dermatitis (also known as eczema) in as fast as 20 weeks when ingested as a dietary supplement.
Hemp seed oil seems to have a remarkable track record when it comes to sensitive skin conditions. If you suffer from any of these and haven't found the right products for you, try out hemp seed oil and see how it can dramatically improve your condition.
How Can I Incorporate Hemp Seed Oil Into My Routine?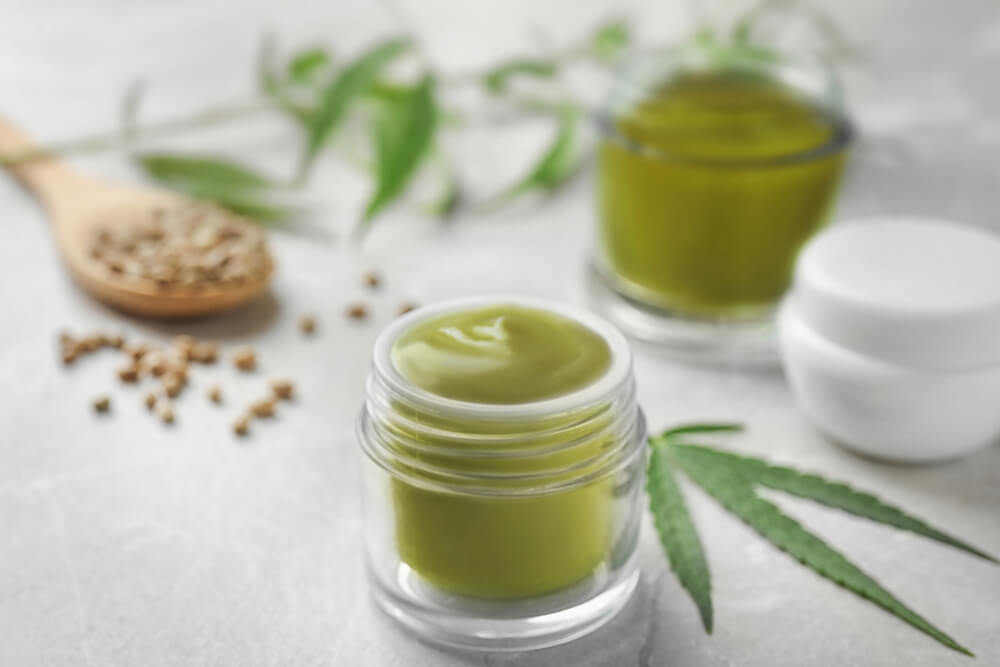 There are two ways to incorporate hemp seed oil into your daily regimen. The first is by ingesting it as a dietary supplement or even as a cooking ingredient for your favorite dishes. The second, and the more common, is to apply it topically to your skin as a part of your skincare routine.
It's a bright idea to include hemp seed oil in your routine by ingesting it, whether it's a spoonful every morning or as an extra ingredient in the meals you cook.
In any case, taking hemp seed oil orally will give you the same benefits as when you apply it topically, plus some extra bonuses like better blood circulation and a healthier heart.
Mixing it up in your soups and salads is a great way to make sure you have your daily dose without dreading downing an entire shot of oil each day.
Now, let's first talk about it as a skincare product. You can use the pure hemp oil as a moisturizer after you're done cleansing, or a spot treatment if you have hyperpigmentation and eczema flare-ups. What's terrific is that you can slather it on everywhere without worrying about it clogging your pores.
You can also rely on top premium, forward-thinking brands to use hemp seed oil in their skincare lines, like Vivo Per Lei.
Shopping for Hemp Seed Oil
The brand has tons of products enriched with hemp seed oil because they believe in its anti-aging, ultra-moisturizing power that suits all skin types. You can choose among different hemp-infused products, depending on your skin goals.
First up, the Vivo Per Lei Hemp Seed Facial Wipes. This is a great first product to try from the brand if you're looking for something simple and low-maintenance but want to give hemp seed oil a go.
These wipes are infused with grapeseed extract, vitamin E, and hemp seed oil. They all work together to moisturize your skin so that you feel refreshed, hydrated, and glowy all at once.
It's great for ladies who have so little time on their hands to wash their makeup off with a cleanser and make a mess in the sink. Just a couple of gentles swipes, and you can thoroughly remove all the makeup and impurities from your long day.
Next up are the Vivo Per Lei Collagen & Hemp Seed Serum Capsules, a cylinder of 15 capsules that help smoothen out your skin and reduce fine lines and wrinkles to restore your youthful glow.
The capsules encase a cocktail of collagen and amino acids from hemp seed oil to make your skin feel plump, bouncy, and silky soft.
It's super easy to use. All you have to do is twist the cap off each capsule and squeeze the serum out into your fingertips before massaging it into the skin.
Finally, if you have a penchant for luxury and love to pamper your skin, you can try out the Vivo Per Lei Hemp Renewal Mask Collection. It's a set of three hydrating face masks with hemp as their star ingredient.
The HydroHemp Seed Mask was designed explicitly for deep nourishment, so it's perfect for dehydrated skin.
The Fresh Face Eucalyptus & Hemp Mask, on the other hand, has a minty cooling effect that leaves your skin calm and feeling fresh and invigorated.
Lastly, you have the Brightening Bamboo Charcoal & Hemp Mask, which is excellent if you're looking to detoxify your oily, acne-prone skin. It's formulated with salicylic acids to treat acne and get rid of all the grime and gunk that's making your skin look dull and greasy.
Conclusion
Now that you know everything about hemp seed oil and its wondrous benefits, it should come as no surprise to you why it's a universal holy grail across all skin types and conditions.
Whether you're thinking of purchasing a luxe, lavish hemp seed oil mask to pamper yourself on the weekend or starting the habit of putting a spoonful of hemp seed oil in your favorite recipes, your healthy, glowing skin will thank you. Hemp seed oil is a miracle product you won't want to sleep on.
---