9 Ways to Exfoliate Your Skin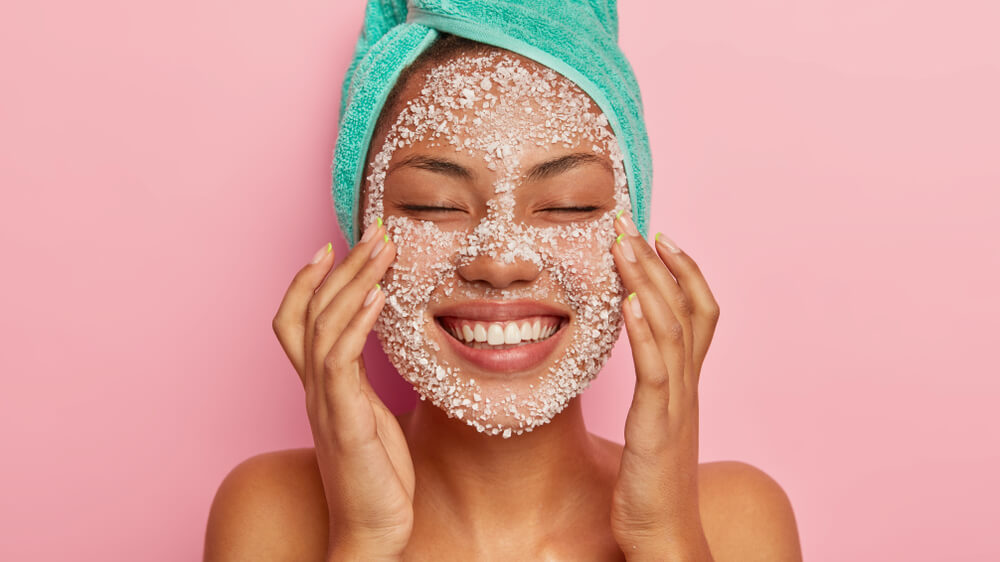 Whether you're looking to achieve legs that feel smoother for summertime, get a dewier, healthier-looking complexion, or you simply want your skin to feel revived and renewed from head to toe, Vivo Per Lei is here to talk you through some amazing ways to exfoliate your skin that will really make a difference.
What's more, to make things even simpler and more effective, we'll recommend our favorite products, from red sea salt scrubs to a moisturizing hemp body scrub, to use in your exfoliation journey!
The Body Products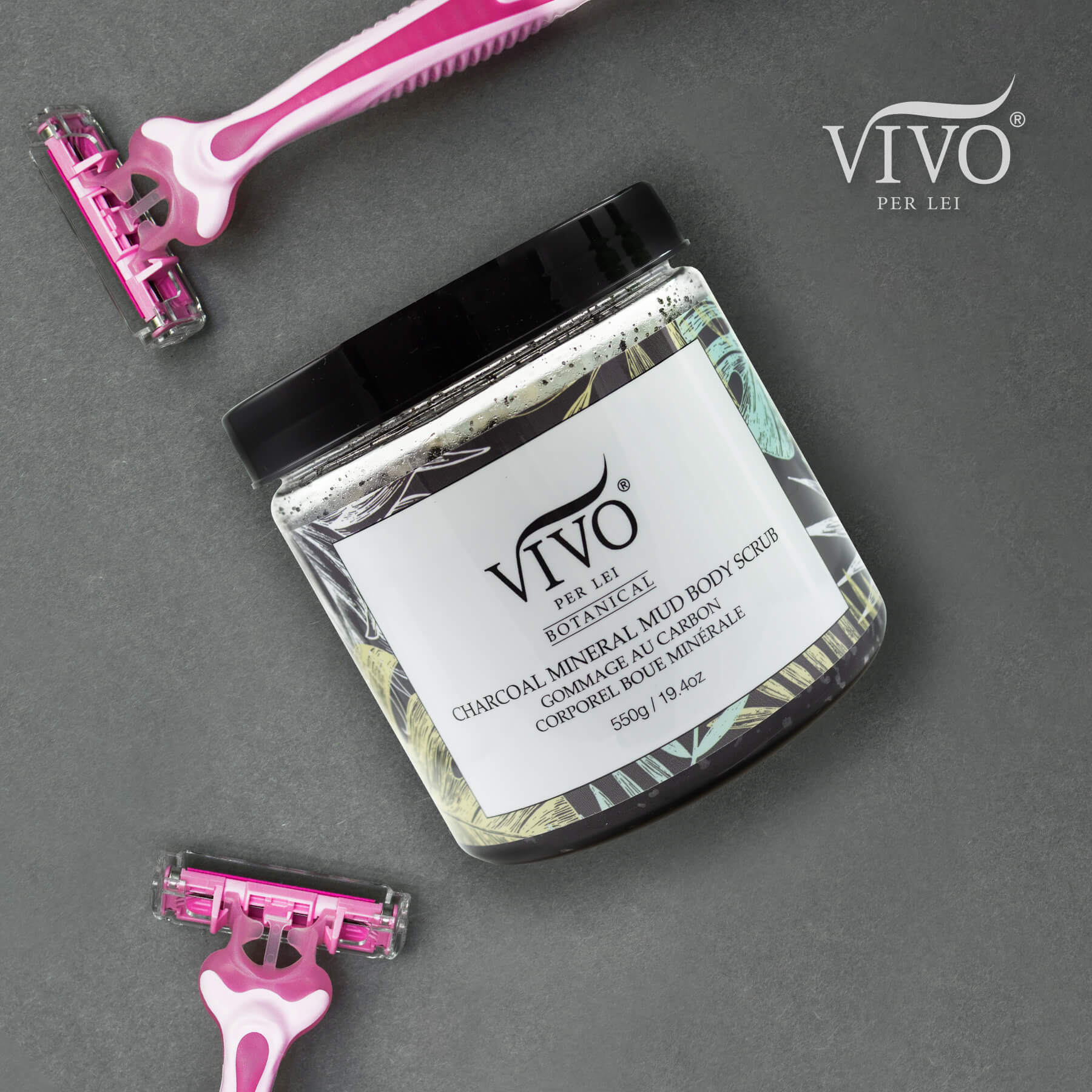 Now, before you get started on the exfoliation process itself, you'll probably want to know all the best products to use to make sure you see lasting results. We can certainly help with that! 
First, let's start with one of our go-to products for incredible all-over body exfoliation. One of our absolute favorites? The Vivo Per Lei Hemp body scrub!
Vivo Per Lei Hemp Body Scrub 
Since we're always looking for ways to make our skin feel utterly radiant and touchably soft, this dreamy all-over Hemp Body Scrub infused with hemp seed oil is a true favorite. 
Part exfoliator and part moisturizer?
Check!
It works to gently, yet thoroughly, rid your body of dry skin and rough patches whilst infusing your skin with deeply moisturizing properties that leave it feeling cleansed and calm. Your skin will feel smoother than ever before and beautifully soft to the touch. Plus, our hemp body scrub, like all of our products, is paraben-free and not tested on animals. 
Vivo Per Lei Charcoal Mineral Mud Body Scrub
When you want to feel like you're visiting the spa between actual spa visits, look to our luxurious Charcoal Mineral Mud Body Scrub. 
Its infused with kaolin clay as well as oils that will deeply moisturize whilst you massage the granules into your skin. Perfect for dewy-looking skin that feels super soft, satisfyingly clean, and instantly rejuvenated.
Vivo Per Lei Salt Scrub
Moving onto our best-selling Salt Body Scrub, this product is perfect for those looking to gently polish their appearance. Much like the hemp body scrub, this product will leave you with smoother-looking skin all over as it sloughs away dry, dead skin with salts from the red sea. 
Additionally, you'll notice after using it that your skin has a much softer look and feel with a noticeably more luminous glow. We love using this one to prep our skin and get that glowing look before an event or other special occasion. 
Vivo Per Lei Citrus Glow Exfoliating Scrub 
For the days you feel sluggish and lacking in energy, we highly recommend introducing the Citrus Glow Exfoliating Scrub into your body care ritual. You and your skin will feel instantly more alert. 
How?
It'll awaken your senses from the moment you open the jar!
From the moment you breathe in its intoxicating citrus scent to the minute you begin waking up your skin with its invigorating formula. It'll lessen the appearance of rough skin areas and leave your body feeling bright and silky smooth. 
This is the perfect choice for those wanting to exfoliate regularly, as we recommend you use it 2-3 times a week. Top up your routine and lock in the moisture for extra dewy-looking skin by using the Vivo Per Lei Citrus Glow Body Butter. 
The Face Products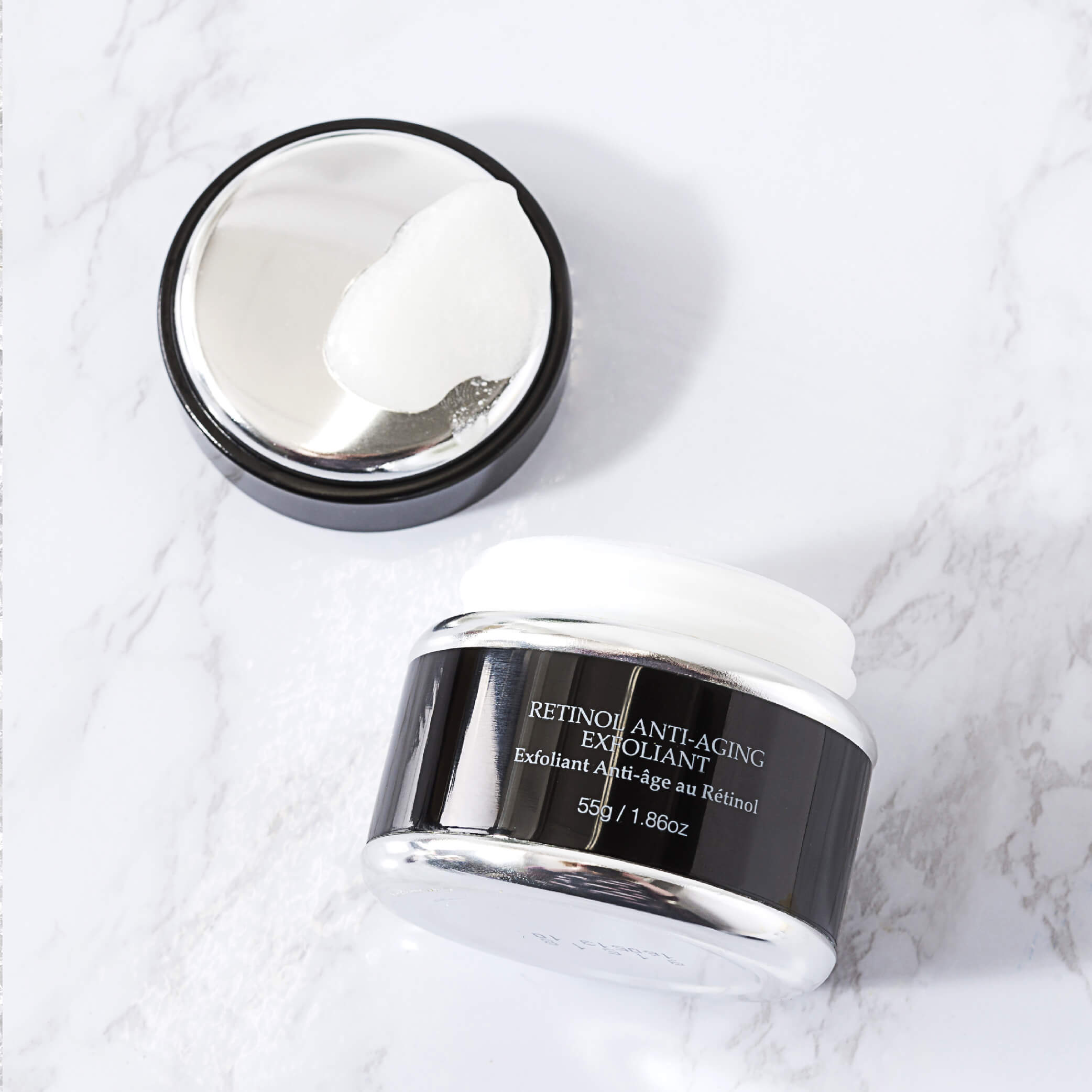 Now that you know some of our top recommended products for full-body exfoliation, it's time to move on to the face. After all, we can't have the skin on our arms and legs feeling silky smooth then forget all about our complexions! Adding a little exfoliation into your regimen, therefore, is a great way to top up cleansing, toning, moisturizing, and regular sheet mask use. 
Here are our favorite products to use when it comes to removing dead skin cells, reviving the feel of our skin, and making the most of our skincare routines. 
Vivo Per Lei Retinol Anti-Aging Exfoliant
Retinol is one of the skincare industries' most celebrated ingredients for very good reason. Not only does it help to significantly reduce the appearance of age lines and even deeper set wrinkles, but it also brightens the look of the skin.
So, it's no wonder that this exfoliant containing retinol is one of our top recommendations. It exfoliates and cleanses the skin gently for a healthy glow and a rejuvenated appearance. Unlike sheet or clay masks, this formula is designed to be left on the skin. Simply smooth it onto your face once or twice a week and notice how much more youthful your skin begins to look. 
Vivo Per Lei Mineral Mud Clay Mask 
Need another way to exfoliate your skin in a relaxing and effective yet very gentle way?
Choose products containing clay!
Clay is a natural exfoliant and has been used in hair and skincare for centuries.
The Mineral Mud Clay Mask from Vivo Per Lei is a favorite of ours as it not only produces amazing, spa-like results, it also feels utterly relaxing and is kind and gentle on our delicate facial skin. 
Vivo Per Lei Facial Peeling
When you really want the natural look and smooth feel of your skin to shine bright, use the Vivo Per Lei Facial Peeling mask to gently exfoliate your skin. 
This powerful, multi-use mask also rids your skin of leftover makeup, dirt, and dead skin cells to reveal a revitalized, silky smooth look beneath. It will even help to reduce the appearance of fine lines and wrinkles that naturally develop over time. 
Exfoliation Techniques For The Body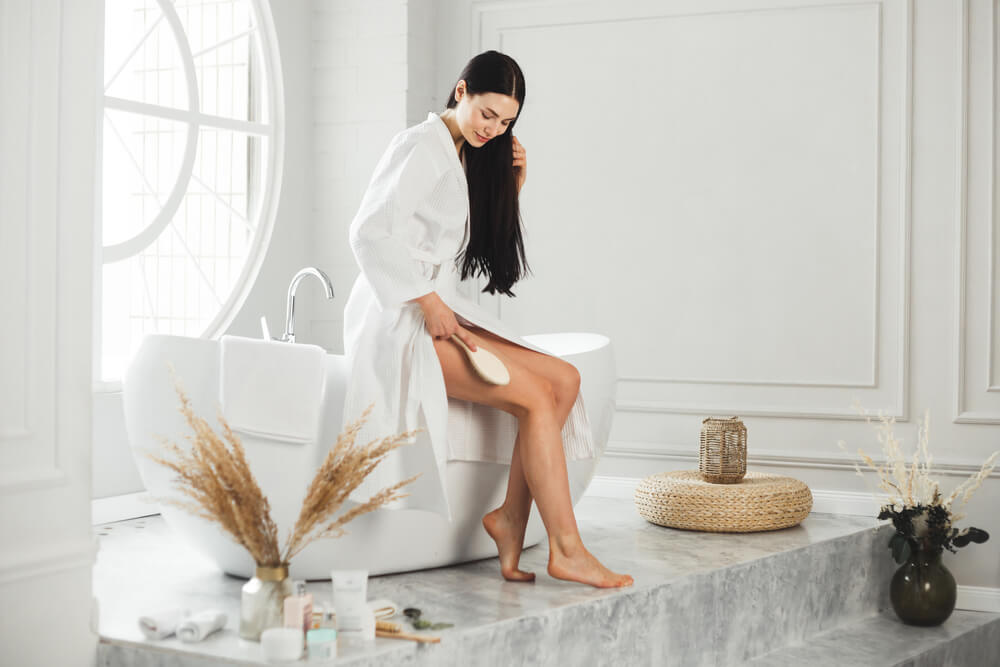 When it comes to exfoliating the skin on your body, you can afford to be a little firmer than you would be with the skin on your face and neck. This is because the skin on our bodies is a little thicker and can therefore withstand stronger ingredients and firmer pressure. 
In fact, were you to exfoliate your body the same way you did your face, you'd likely find few noticeable results.
Think there's only one way to exfoliate your body?
You'll be surprised how many there actually are!
Use a Body Scrub For Granular Exfoliation
Now that you know our top recommendations for body scrubs you can use to give your skin a glow-up at home (we're looking at you hemp body scrub!), choosing the one that's right for you should be a breeze. 
The reasons we love body scrubs for full-body exfoliation are not only because they're super effective and usually smell like a dream! It's also because they're super accessible, reasonably priced, and couldn't be simpler to use. What's more with so many variations available from hemp body scrub to invigorating coffee formulas, you'll always be able to find the exact results you're looking for. 
To get the most out of your hemp body scrub, or any other one you decide to use, apply it to wet skin in the shower. Once you've been in for a minute or so, go ahead and turn the shower off whilst you apply the scrub. This will save water and won't accidentally rinse off your product whilst you're still applying!
We say to apply it to wet skin as this will not only make massaging it into the skin a much easier, more fluid action, it also prevents the scrub from being too rough on your skin. (When it's dry, grainy formulas like this can create drag on the skin which scratches at it rather than awakens it with gentle exfoliation.)
Once it's all massaged in, go ahead and leave it for a further thirty seconds to a minute. Allow yourself to enjoy the scent and your body to properly absorb every benefit possible from the ingredients. Rinse it off, and enjoy radiant-looking skin.
Dry Brushing
Never tried dry brushing?
We're fairly certain you're about to question how you ever lived without it!
Firstly, we highly recommend purchasing a dry brush made with all-natural bristles. Synthetic ones can be a little too harsh and often scratchy which can drag, damaging the skin rather than gently exfoliating it.
To dry brush your body, simply take your brush and use it to create mildly pressured upward strokes along each area of the skin. Start at your ankles and work your way up going gentler on areas with more sensitive skin such as the forearms and chest area.
Doing so means you're always working with your body's natural blood flow towards the heart. This action will help to improve circulation alongside removing dead skin cells and other impurities.
Once you're done, jump straight in the shower so you can wash off and dead skin you've brushed away. Just make sure your shower is only lukewarm so you don't dehydrate the skin right after exfoliating it! Finish off with a generous slathering of your favorite body cream to lock in all that moisture!
Granular Scrubs For Feet Exfoliation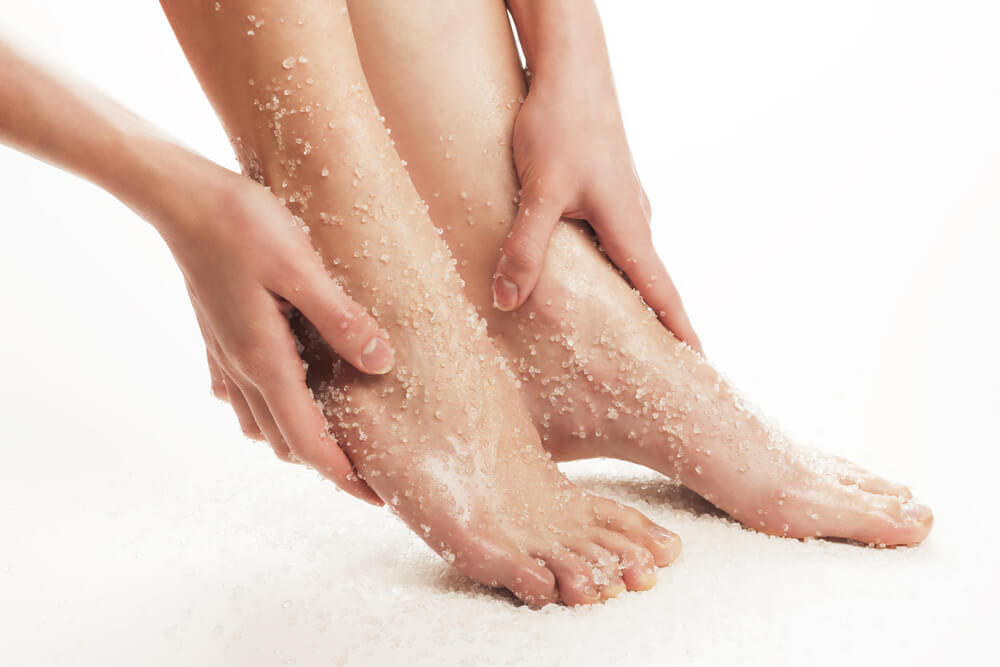 When exfoliating our bodies and faces, it's easy to forget about our feet! However, they do so much for us and receive very little thanks for it, so, we think it's only right they get their own exfoliation attention!
There are a couple of ways to do this. One, treat your feet to a salt scrub that'll remove all the dead skin and leave them feeling smooth and soft. Not to mention, massaging those purifying granules into your feet feels seriously amazing!
Pumice Stone For Feet Exfoliation
When you really want to give your feet an overhaul, use a pumice stone to gently remove all the hard skin that naturally builds up on the heels and sometimes on the toes too.
Our advice?
Be incredibly gentle!
It's so easy to get carried away when using a pumice stone as they're so good at removing dead skin cells right away. Go in softly or you'll end up damaging a new layer of skin before you know it! Soak your feet in warm water for five to ten minutes beforehand, then make sure to wet the pumice stone. Use light pressure only and you'll still achieve the desired results!
Light Loofah Exfoliation
Using a loofah in the shower is one of our favorite ways to achieve full-body exfoliation in just a few minutes. Simply wet the loofah and apply a little of your favorite moisturizing shower cream, then lather it up a little so it'll glide effortlessly over your skin.
Then, using small circular motions, use the loofah in your hand to gently buff up the skin all over your body. This will help to improve circulation and will also help your skin feel noticeably smoother in very little time.
Mitts/ Gloves Exfoliation
Exfoliation mitts or gloves work in a similar way to your loofah, only if you buy a pair of two, you'll find exfoliating your skin quicker and simpler than ever! 
Slip the gloves on in the shower and make sure they and your skin are wet before you begin exfoliating. Once again, add a moisturizing body wash onto the gloves and evenly distribute it on each hand. 
Then, use circular motions to gently exfoliate your whole body with the gloves. Simple!
Exfoliation Techniques For The Face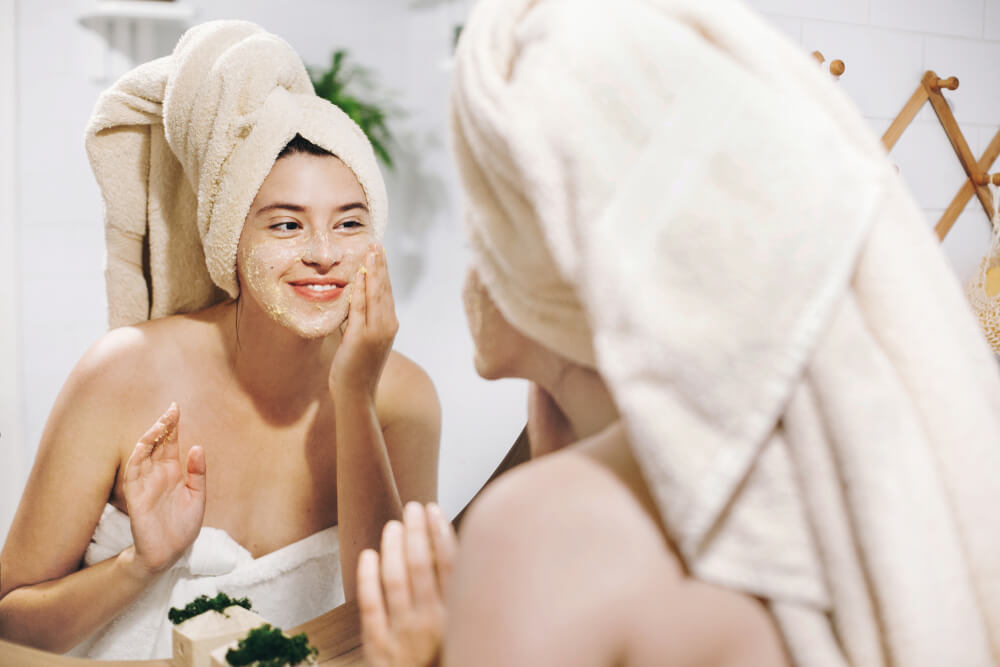 Now that your body's taken care of, let's look at the best ways to exfoliate the skin on your face using the products we've mentioned!
Facial Scrubs or Masks
Much like what we recommended for your body, choosing scrubs and masks designed specially to exfoliate the delicate skin on our faces is one of the best and easiest ways to remove dirt and dead skin for a dewier complexion.
Tie back your hair and use a super-gentle cleanser to rid your skin of any dirt or leftover makeup before you begin. A gentle cleanser will prep your skin ready to be exfoliated rather than aggravating it with harsh chemicals or perfumes before introducing exfoliants.
Rub your chosen scrub in a soft circular motion avoiding the delicate eye area. Afterward, your skin will feel soft, remarkably clean, and renewed.
Use a Face Brush
When you want to reach deeper into your pores as you exfoliate, consider investing in a facial brush. With the brush wet and on wet skin, use it to apply your cleanser, once again, using small circular motions to promote blood flood. The bristles will reach deeper into your pores as well as create a light brushing effect which can help to remove dirt and dead skin.
One thing we suggest?
Make sure you keep your brush clean!
Using a dirty brush on your face will only lead to breakouts if it transfers bacteria to your skin. So, clean it thoroughly after and before every use and change the head regularly.
Use a Simple Face Cloth
Those with very delicate skin may find that granular or brush exfoliation is a little too harsh for their skin. If this sounds like you, we suggest using a face cloth, a sensitive skin cleanser, and lukewarm water to gently exfoliate your skin instead. It'll be a lot softer on your face, yet will certainly still get the job done.
---