Should You Be Using a Beard Oil?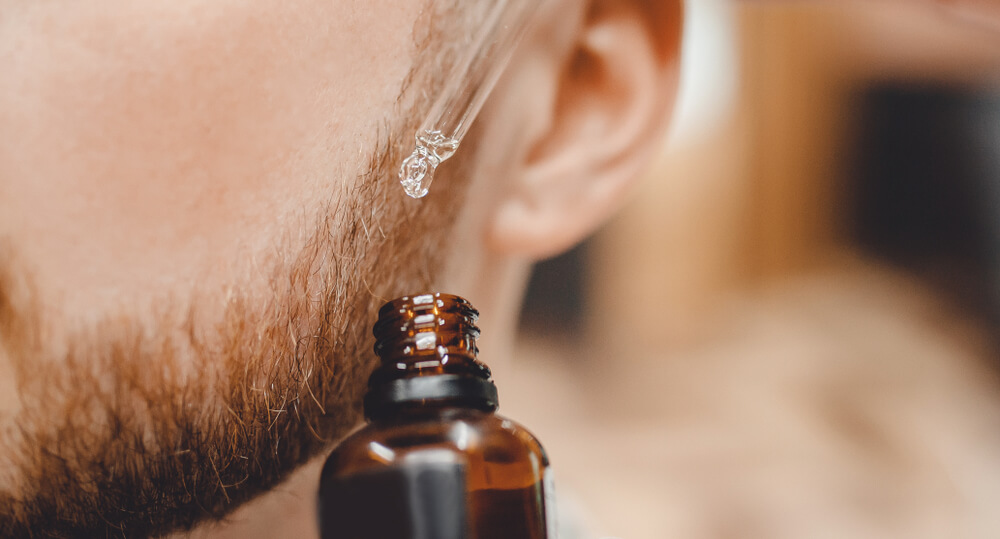 Have you been taking care of your beard as you should?
Maintaining a thick, healthy-looking beard isn't an easy task. Why? Well, for starters, it's not a single task at all. It's a continuous process involving commitment and dedication, day in and day out — much like your daily skincare routine.
Using a regular hair oil for your beard might be okay, but it's not what's best for your beard. Dedicated beard oils are where it's at right now! And Vivo Per Lei is here to tell you all about it. Any beard issue you're facing can be eased with the help of good beard oil. Even if you pride yourself on having full, lustrous facial hair, you still need to incorporate beard oil regularly to keep your skin feeling moisturized and soft.
Vivo Per Lei Cedarwood Moisturizing Beard Oil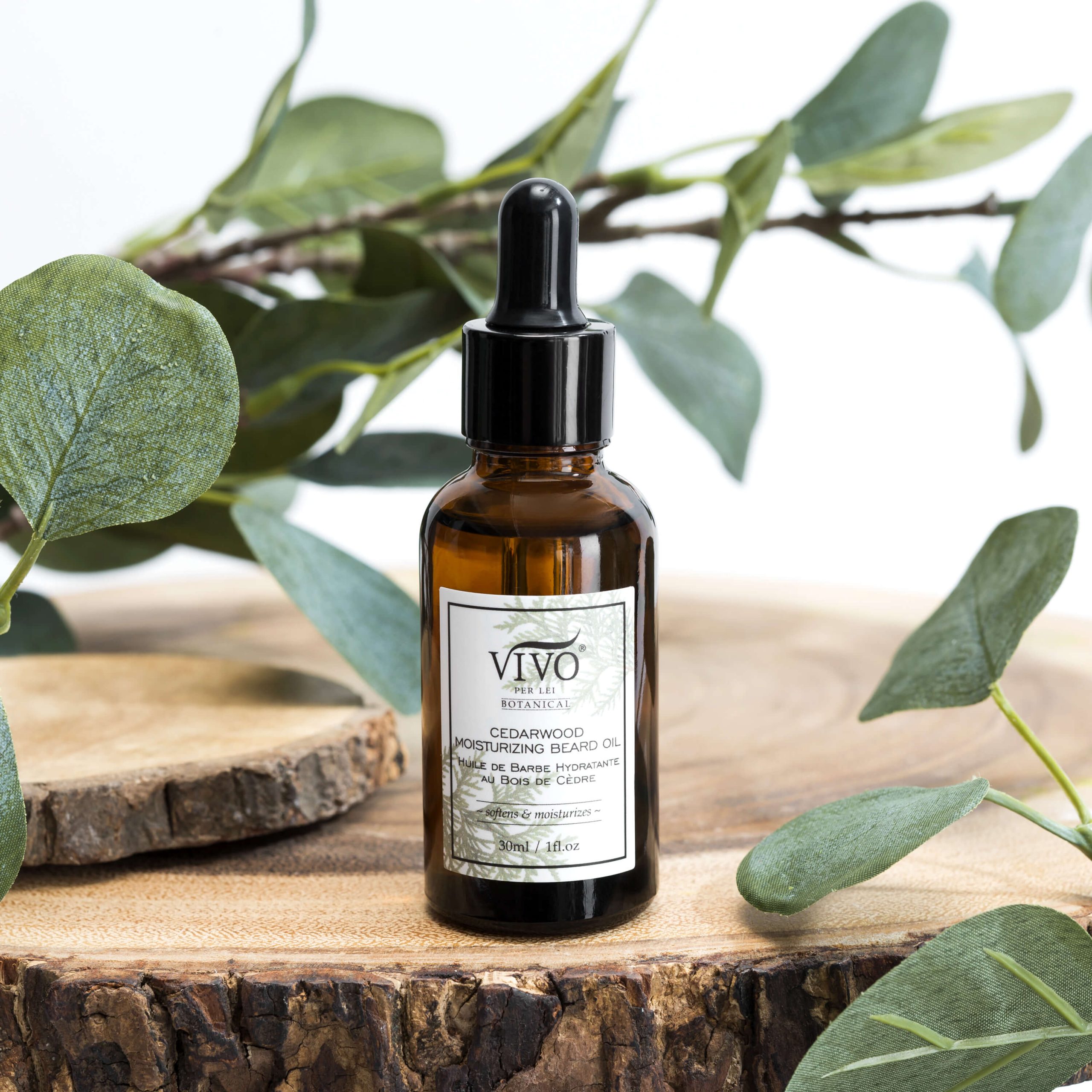 Before we dive into the nitty gritty, let's take a moment to talk about Vivo Per Lei's Cedarwood Moisturizing Beard Oil from our Men's Collection!
Take care of your facial hair the best way with this superb formula. It's a musky oil infused with pure vitamin E to ease the look of dull, lifeless hair. This vitamin is a powerhouse ingredient in beard oil as it helps make your skin appear smooth and fade the look of dandruff. The oil also comprises cedar seed oil that can significantly soften the feel of stiff facial hair, giving your beard a stylish look. We've also added olive, grape seed, and jojoba oils to moisturize and condition thick, stiff beard hair.
If you're dealing with an unruly, wild beard, our Cedarwood Moisturizing Beard Oil can help you take care of that issue as well. We've infused argan oil into our advanced formula as well to help you tame your beard so you can style it to your heart's content. Cannabis Sativa seed oil (hemp seed oil) in our beard oil exhibits high moisturizing properties to soften the feel of your facial hair. Because of its high vitamin E content, it works great as a natural conditioner for your hair.
So, give your jaw and beard hair some much-needed TLC with our Cedarwood Moisturizing Beard Oil. With its strong lubrication properties, it will keep your hair tangle-free and feeling smooth. Make it a part of your daily beard care routine and witness an enhanced beard!
What Exactly is Beard Oil and How is it Different From Regular Hair Oil?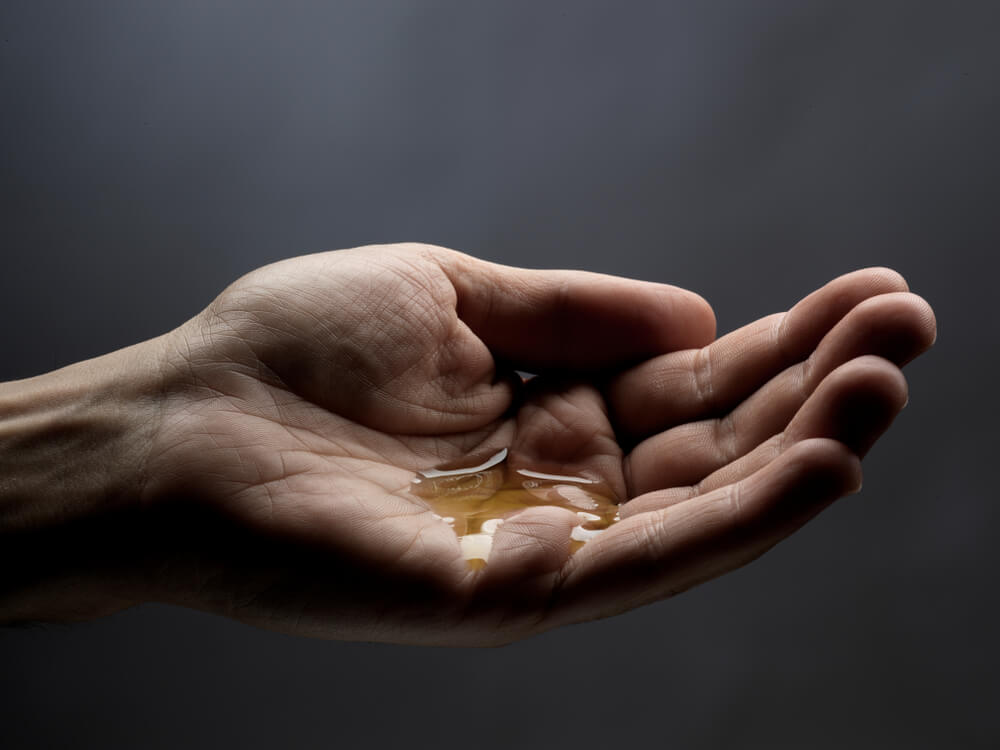 Is your beard oil really any different from regular hair oil?
Yes, in more ways than one. The hair on your face is much more coarse and thicker than the hair on your head. Their compositions are poles apart, both requiring different forms of care to keep them looking healthy and soft.
Beard oils contain a precise mixture of oils and vitamins that leave your hair feeling stronger and softer. Argan, jojoba, grapeseed, and cedarwood are some of the most effective oils used in beard oil formulas. These specific ingredients are ideal for taming your beard hair and keeping your skin feeling soft and healthy at the same time.
Our scalp is different from our face, the latter is much more sensitive. Hair oil can contain chemicals that can irritate or damage sensitive skin. So, as part of a good beard care regimen, you shouldn't treat your beard the same way as the hair on your scalp.
When Should I Start Using a Beard Oil?
When you've just started growing your beard out and it's still short – that's the best time to start using a beard oil. Many men go through an "itchy beard" phase in the first few weeks of growing their facial hair. This often makes them bow out of the process entirely.
What happens is that when you shave, the sharp edges of your facial hair stay inside the follicle. As your beard grows out, these edges can irritate the follicles when they try to tear through. It can cause intense itchiness that's often hard to ignore.
But a good beard oil can turn that all around! Regularly pampering your beard hair with the Vivo Per Lei Cedarwood Moisturizing Beard Oil can help moisturize your skin and keep the feeling of itchiness at bay. That's why a new, short beard and a beard oil are a match made in heaven.
That said, even if you've passed your short beard period, it's still never too late to enhance your routine. Long beards tend to grow split ends and go rogue. Beard oil can help ease these issues and give you peace of mind.
Our point is, there is no wrong time for a beard oil.
The Benefits of Using a Beard Oil
Here are some of the ways you can expect a good beard oil to enhance the appearance of your beard and elevate your whole vibe:
Faded Visibility of Gray Hair
Natural aging comes with many changes to your skin and hair. As you grow older, your pigment cells tend to weaken, leading to gray hair. By establishing a solid beard care regimen with the right beard oil, you can help slow down the look of gray hair proactively.
Our beard oil is powered by the effects of vitamin E. This vitamin works to fade the visibility of aging and damage on your skin. It can help protect the look of the pigment cells that are responsible for giving your hair its natural color.
Speaking of aging, we have another great product to make your face appear younger. Our Men's Black Caviar Serum Capsules are infused with real caviar extract and vitamin E to give you youthful-looking skin. Caviar extract works primarily as an emollient to moisturize your skin and improve its hydration levels. Vitamin E eases the look of aging, including fine lines, wrinkles, discoloration, and loss of firmness. Use this serum every day to give your skin a refreshed, firmer, and contoured appearance!
Diminished Look of Dandruff
Beard dandruff, beardruff, is a common problem of dry and itchy beards. Why do you get it? When dead cells pile up on your skin, they make it feel dull and dry. So, as your beard hair grows from these dry follicles, it undergoes cuticle damage and loss of protein. This makes the hair appear stiff and dull, leading to breakage.
In contrast, when your beard hair grows from a well-moisturized jaw, it's much softer and better in condition. So, to keep the skin properly moisturized, you need a beard oil! And not just any beard oil; our special Cedarwood Moisturizing Beard Oil. The revitalized formula will help you to take care of your skin's moisturizing needs.
But you can show your beard some extra TLC by using our Cedarwood Vitamin E Beard Balm in conjunction. It's infused with sweet almond and jojoba oils to ease the look of beardruff. We've also blended in hemp seed oil, which is known for its excellent properties to moisturize and soften the feel of dry skin. Cedarwood bark oil in the balm will give your skin long-lasting shine and softness, taking care of the untidy look of flyaway hair!
To apply the balm, take a pea-sized or dime-sized amount depending on how long your beard is. Rub the balm in your hands to emulsify it and massage it into your beard. Start with the roots and move toward the tips. Finish off by combing your beard to evenly spread out the balm.
Eases the Appearance of Split Ends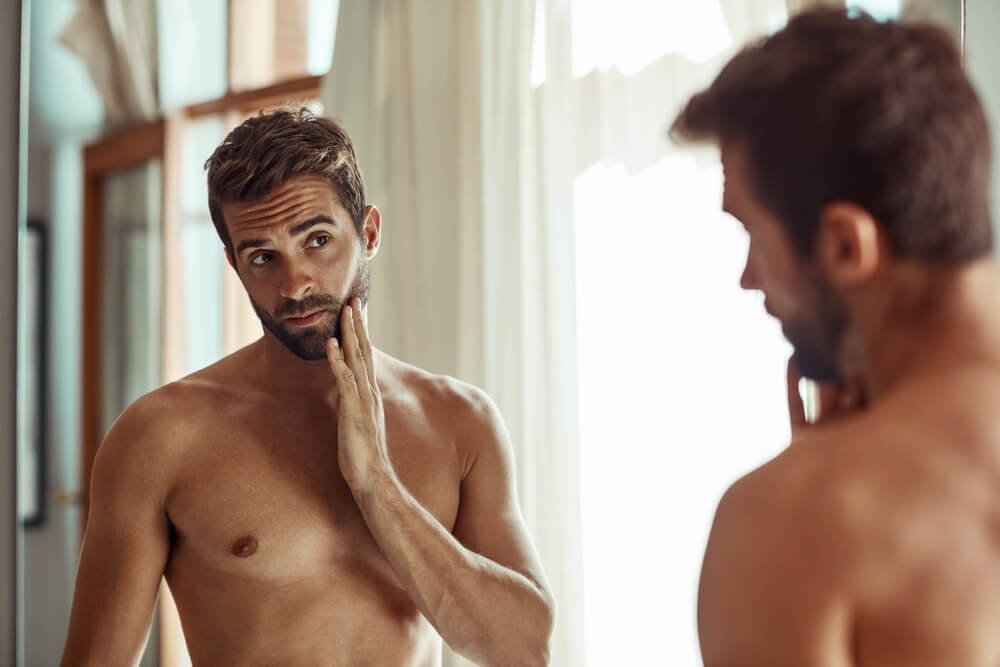 As your beard grows, you might spot a few split ends here and there. It's a common occurrence just as with the hair on your head. Why do these occur? You can get split ends on hair that's primarily dry and dull. The dryness causes the hair to feel hard and scruffy, leading to breakage. It can be due to poor diet, harsh weather, lack of moisturizing, or subjecting your hair to a lot of artificial techniques, like straightening or blow-drying. Your motive might be to improve the appearance of your beard but overdoing it can often damage and break your hair.
A beard oil can help keep your hair and skin properly moisturized and looking healthy. It can give your beard hair a smooth, soft feel and enhance its overall look. This way, your beard hair will be less likely to experience visible damage and breakage.
Thicker-Feeling Beard Hair
It's no secret that every beard-loving man wants thick, full-looking facial hair. In the process, you might have had to start fresh many times because it was just not coming out right. If your beard ends up looking thin and patchy instead, you might be doing something wrong (or not doing anything at all).
Your beard hair tends to trap dust from the environment because of its naturally thick and coarse texture. In fact, it's not wrong to say that most beards are unclean and carry a significant number of bacteria. This paves the way for inconsistent beard hair growth, both in terms of volume and manner.
To make sure your beard feels clean and looks fuller, you should use a beard oil. With the right nutrients to take care of your skin and hair, a beard oil can significantly enhance the look of your hair's texture and volume.
The Right Way to Apply a Beard Oil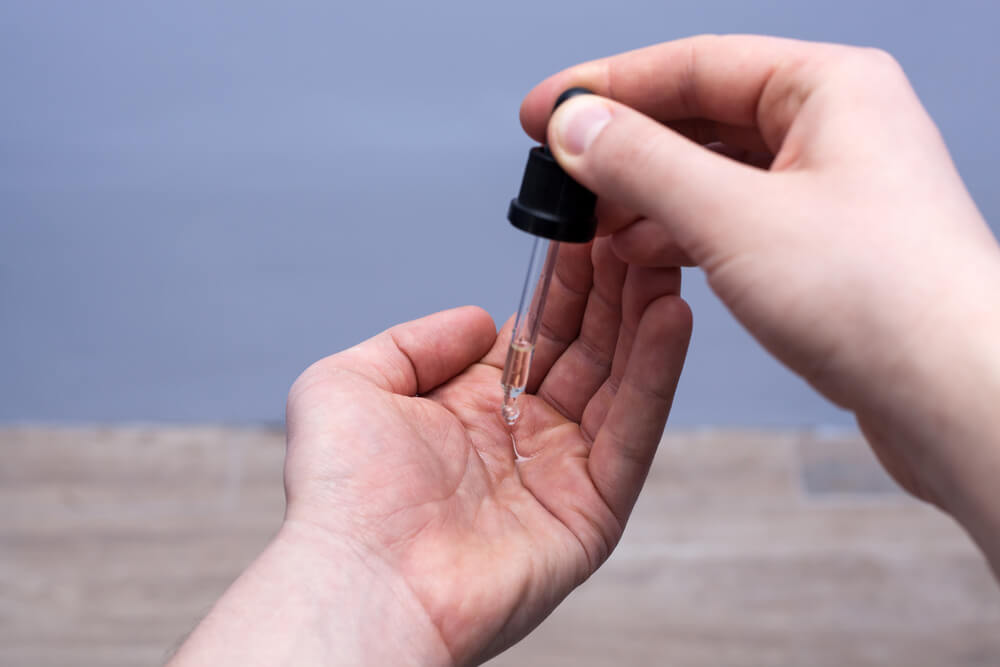 Is there a right way to apply beard oil? Yes. To make sure you get the most out of your beard oil, you need to follow the proper technique. Make sure you start with a clean beard that's free from dirt and debris or any residual skincare products. Wash your beard with a good beard wash for your skin type. Massage gently and then rinse off with lukewarm water.
Now it's time to apply your beard oil. Heat it up before you apply it to your beard by taking a few drops into your palms and rubbing them together for a few seconds. Start by applying the oil at the base of your beard and work your way to the tips. Use circular motions to massage the oil in and divide it evenly across your beard hair. You can also use a comb to even out the distribution.
Beard Care Tips 
Here are a few helpful tips to aid you in growing a full-looking beard:
Groom Your Beard
To keep your beard looking thick and stylish, it's important to comb it regularly and undo all the knots. You can use the Cedarwood Vitamin E Beard Balm to help make your hair easier to comb and style. Trim your beard from time to time with sharp scissors to get rid of any damaged hair.
Manage Your Diet
A healthy diet with lean protein, iron, zinc, and vitamins A, B, C, and E can give your skin the nutrients it needs to promote healthy hair growth. So, make some healthy lifestyle choices!
Follow a Strict Regimen
It's important to be consistent with your beard care routine. It takes a lot of time and patience but the result is well worth it!
Get a Stylish Beard with Vivo Per Lei's Beard Oil!
A beard oil can do a lot of wonders for your beard. If you want to have a full-looking beard with hair that feels thick, use our Cedarwood Moisturizing Beard Oil regularly.
For more of Vivo Per Lei's cutting-edge formulas, be sure to take a peek at our bestsellers!
---