Vivo Skincare for Men: 5 Basics Every Man Needs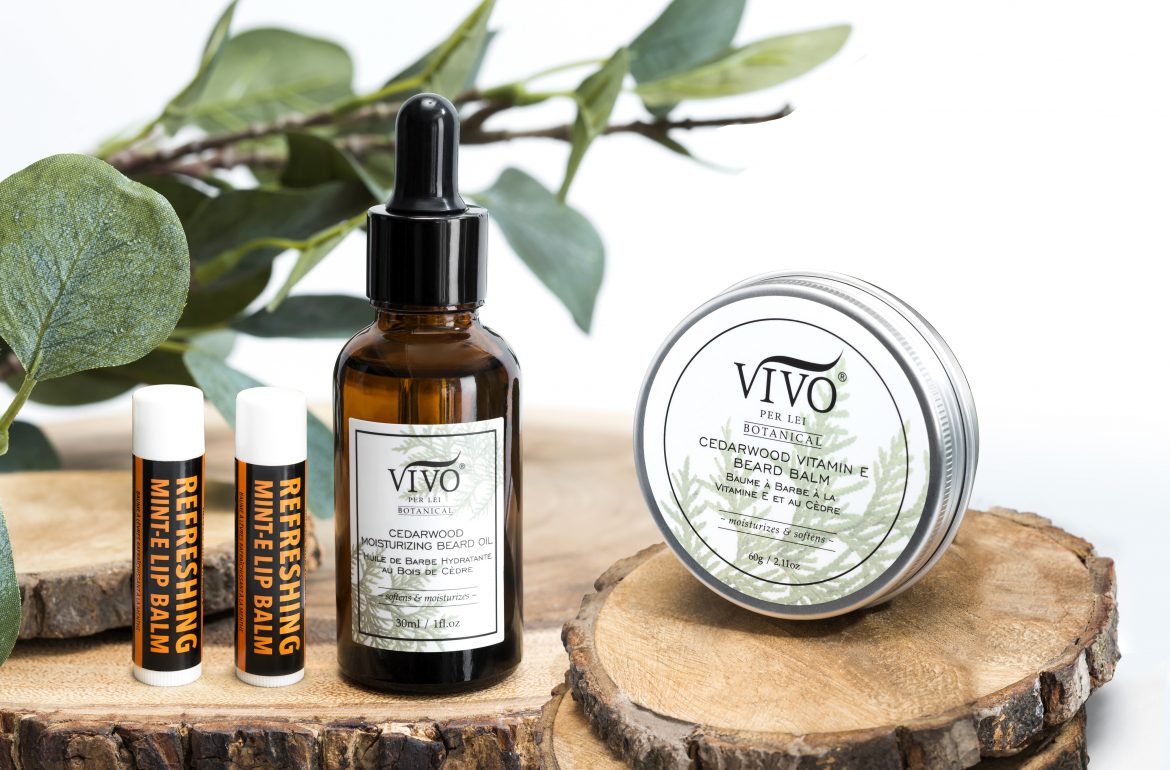 When you're young, you can get away without an arsenal of products to take care of your skin, lips, hair, and beard. That is, until you begin to notice that your skin is starting to look older, your hair is getting dry and brittle, your beard looks sparse and unkempt, and your lips are dry and chapped.
That's when the products in our Vivo skincare for men collection come into play. 
We know that men need specially formulated products in order to cleanse, nourish, and moisturize their skin, hair, beard, and lips and maintain a clean youthful look.
We also know that men are often reluctant to buy these products. Yet, dry and aging skin, a sparse beard, chapped lips, or brittle unhealthy hair may be affecting both your confidence and your appearance.
Chin up!
Read on to get the inside scoop on the basic skincare products that every man should have in their arsenal.
Nourishing Beard Oil With Tea Tree, Aloe, Mint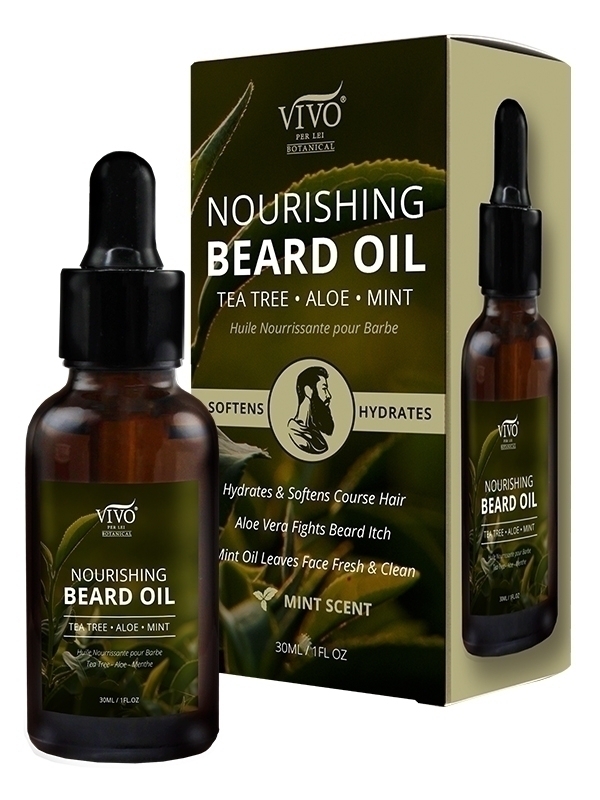 If you're looking to give your beard the gift of the benefits of Tea Tree Oil, you'll want to try our Nourishing Beard Oil With Tea Tree Oil. It's power-packed with antioxidant-rich oils. We've handpicked these to work together to improve the health and increase the growth of your beard. 
Our beard oil is a fantastic multi-tasker. It not only encourages your beard to grow fuller and thicker, but also provides deep hydration to your follicles. It'll make your beard look and feel more nourished and well kept.
We've developed our Nourishing Beard Oil with a variety of natural oils to smooth your beard as a leave-in conditioner. When used in combination with the other beard care products from our Vivo skincare for men collection, your dry, frizzy and sparse beard will be a distant thing of the past. 
Ingredients in Our Nourishing Beard Oil:
What is Tea Tree Oil?
Tea Tree Oil is an essence that is naturally sourced from tea trees. It has antifungal and antibacterial properties that help to restore the follicles in your hair and beard making them stronger and healthier. 
Because of these properties,Tea Tree Oil is most commonly associated with fantastic hair growth. With regular application of high-quality products containing Tea Tree Oil, you can expect an increase in hair and beard growth and thickness.
But, there's even more!
You can count on even more powerful benefits for your hair, beard, and skin when using Tea Tree Oil as part of your daily regimen of products from Vivo skincare for men!
With each use of our beard oil, you'll be closer to achieving the full, smooth, and nourished beard of your dreams. We are totally confident that once you make our beard oil a part of your daily regimen, you'll notice some pretty great improvements to your beard!
Men's Black Caviar Serum Capsules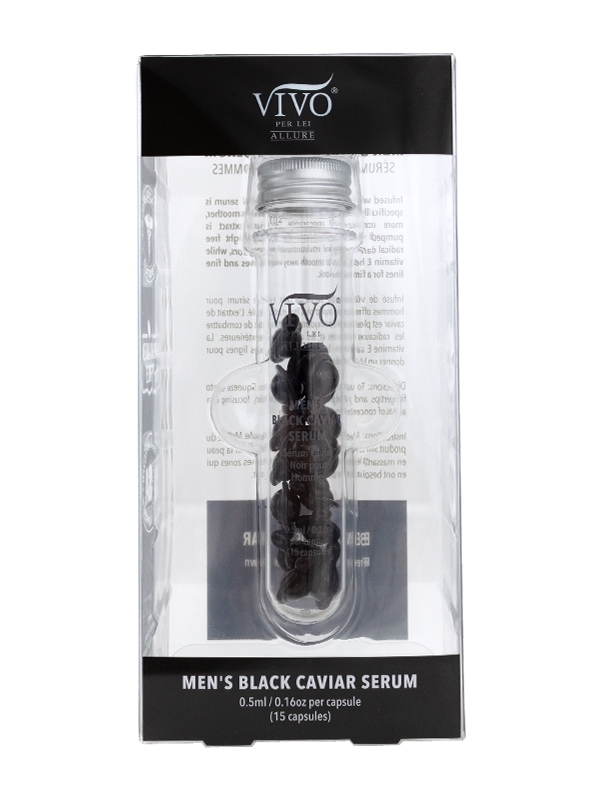 You probably already know that the sun's (UV) UltraViolet rays can penetrate right through your skin. These powerful rays wreak havoc on your collagen and elastin supply, two of your body's age-fighting champions that work to keep your skin youthful, smooth, and taut.
If you want to get the youthfully firm, smooth, and plump skin back, you'll definitely want to incorporate our Men's Black Caviar Serum Capsules into your skincare routine as soon as possible.
That's right, you read that product name correctly. This serum contains Caviar! A naturally sourced ingredient, Caviar contains collagen stimulating Omega-3's and antioxidants. It's a real restorative luxury for your skin. Caviar packs vitamins, amino acids, ceramides and antioxidants that build your skin's barrier to environmental damage. 
We've designed these serum capsules specifically for men. They deliver targeted significant results. Each small capsule contains a super powerful dose of this serum. And each capsule of serum is designed to help men achieve a smoother and more contoured complexion while strengthening their skin's barrier to harmful environmental damage.
What could be better, right?
Men's 3-in-1 with Tea Tree, Aloe, Mint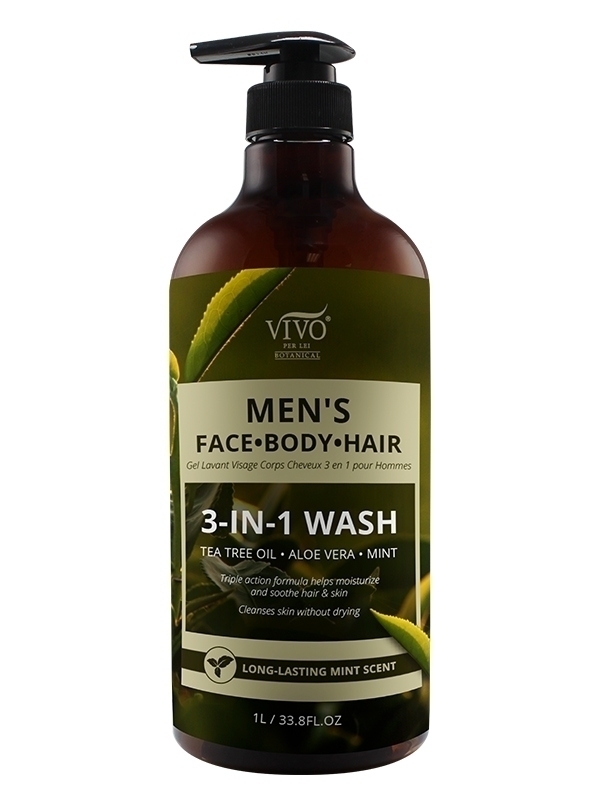 Are you short on time in the morning? Are you looking to simplify your cleansing routine?
If you're looking for results and you like to keep a simple and straightforward hair and skincare daily regimen, our Men's 3-in-1 With Tea Tree, Aloe, and Mint is exactly what you need!
This 3-in-1 wash from our Vivo skincare for men collection can be used as a shampoo, a conditioner, and a body wash! 
That's right, it's everything you need in the shower all packed into one bottle. 
We've formulated this product to be a revitalizing blend of Tea Tree Oil, soothing Aloe, and Peppermint that meets the skin and hair care needs of men.
This 3-in-1 product is packed with Aloe Barbadensis Leaf Juice, also known as Aloe Vera Extract, among other hand picked ingredients that deliver proven results.
But what, exactly, is so great about Aloe Barbadensis Leaf Juice?
Well, long used for treating skin conditions and soothing the skin, it may surprise you that Aloe Barbadensis Leaf Juice boasts many vitamin-loaded perks for men's hair, skin, and beard. This powerful ingredient soothes your scalp. It makes your strands stronger, healthier, and more moisturized.
Below, we've shined the spotlight on Aloe Barbadensis Leaf Juice. You'll find more information on how this ingredient works to heal your scalp. You'll also learn the benefits you can count on from using this Aloe-infused 3-in-1 product.
Benefits of Using Aloe Barbadensis Leaf Juice On Your Hair and Beard:
Healthier, Stronger Hair

–

Aloe Barbadensis Leaf Juice is packed with vitamins and minerals including Vitamins A, C, and E

. These vitamins nourish your hair and beard from root to tip.

Environmental Protection

– The sun's ultraviolet radiation (UV) rays and environmental pollutants can actually damage your hair in addition to your skin. Dry, brittle hair is exposed and ripe for further damage.

Aloe Barbadensis Leaf Juice strengthens and nourishes your follicles with its healing properties

.

Gets Rid of Grease & Product Buildup

– The beauty of Aloe Vera Barbadensis Leaf Juice is that it's a

natural enzyme that tackles stubborn excess oils in your hair that can make your clean hair look greasy.

 

Soothes Scalp and Skin

–

Aloe Barbadensis Leaf Juice

has had a reputation as a skin-healing anti-inflammatory for thousands of years.

It treats and calms skin conditions that can impede your hair and beard growth. It also tackles stubborn dry and itchy patches and dandruff

.
Our Men's 3-in-1 miracle worker keeps things simple but delivers noticeable, lasting results for our customers.
When you use our fantastic 3-in-1 product as a body wash, the high-quality ingredients within work gently, yet powerfully, to remove built-up dirt and impurities. With your skin nourished and replenished through use of this product, you'll reveal more youthfully smooth and healthy skin.
What could be easier than to have a shampoo, conditioner, and body wash in one?
Now that your interest in our products is thoroughly peaked…
Let's hone in on another product from our Vivo skincare for men collection! 
Men's After Shave Balm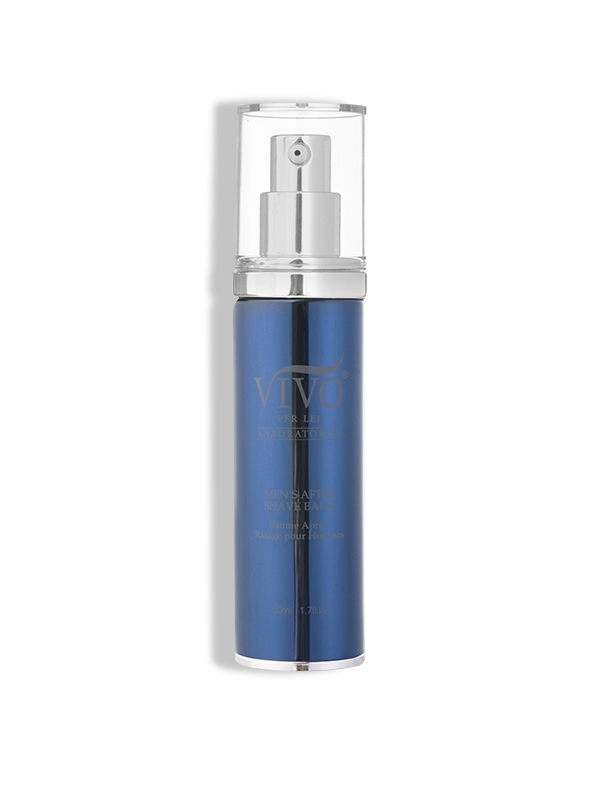 Are you looking to repair your skin post-shave? Is your skin irritated from shaving everyday? Do you have sensitive skin that's making you dread your next shave?
If you answered "yes" to any of these questions, then soothing balm is the product for you! 
Our Men's After Shave Balm is a nourishing and moisturizing product which repairs your skin post shave. If you have mild irritation, dryness, or skin tightness post shave you'll want a balm this one. 
This balm is formulated with natural and synthetically sourced ingredients to deliver impactful results. It works by treating irritated skin and reducing inflammation where it matters. The Dead Sea Minerals that we've infused into this balm leave your razor burned skin restored. They'll heal damage to your skin, leaving it feeling smooth and touchable.  
A lightweight lotion, it will absorb easily into your skin post-shave. With a proprietary blend of minerals with anti-inflammatory properties and natural botanicals, this balm is destined to compliment each and every shave.
Refreshing Mint-E Lip Balm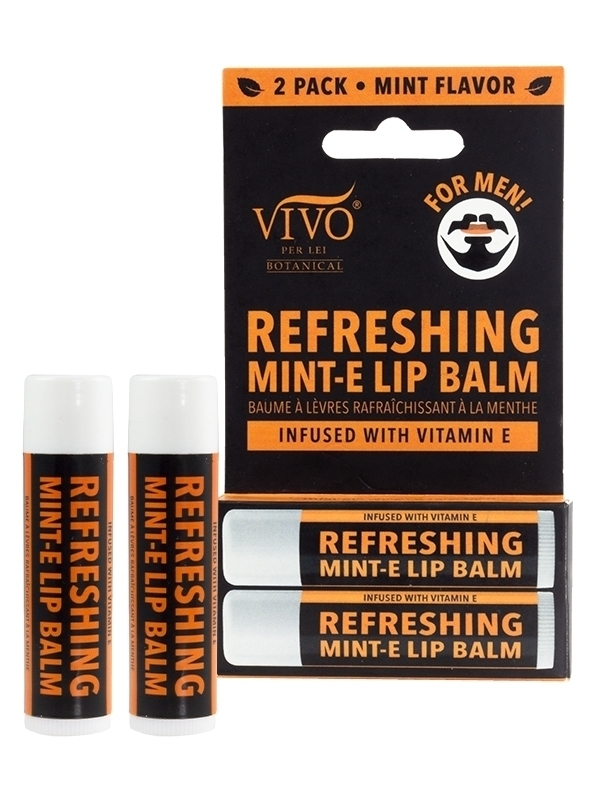 Are your lips dry and chapped? Is your lip area starting to age the rest of you? Is the skin on your lips uneven or looking less taut?
You'll want to get your hands, and lips, on our Refreshing Mint-E Lip Balm.
Don't worry, you're not alone. Many men forget about taking care of their lips. 
Rest assured, at Vivo Per Lei we've found the perfect ingredient for a powerful lip balm, Vitamin E. We've formulated this balm from our Vivo skincare for men collection with a magic elixir of Vitamin E, Castor Oil, Olive Fruit Oils, and more to lock the moisture into your lips.
Wondering what's so special about Vitamin E?
Let's take a look at how and why Vitamin E a rockstar in skin and lip products:
Vitamin E Benefits:
Helps to protect your skin, and lips, from harmful free radicals

Protects

the skin by strengthening it's barrier to the elements 

Boosts circulation increasing blood flow

Generates newer, younger skin cells

Makes lips softer and smoother
You can apply this balm liberally throughout the day as needed for smooth lips.
You'll be on your way to more hydrated lips in no time!
In Conclusion
Using these high-quality products from our Vivo skincare for men collection will nourish and moisturize your hair, skin, beard, and lips. These products can take years off of your look. 
One of the reasons our men's products are so popular with our loyal customers is that they are carefully formulated with Tea Tree Oil, in harmony with many other restorative ingredients. When working together as a team, these deliver fantastic results that will boost your confidence and restore your skin, beard, and hair to their former glory.
At Vivo Per Lei, we have spent time carefully formulating the products in our Vivo skincare for men collection to address your grooming needs. Our goal is to develop products that deliver targeted results that make our customers feel more confident.
The handpicked ingredients we've chosen for these products work in tandem to restore the health and appearance of your skin, hair, and beard with the noticeable results that our customers have come to expect from us at Vivo Per Lei.
We're extremely proud of the fact that our products are all ethically produced. They are never tested on animals, and are shipped in 100% recyclable packaging. You can feel good about purchasing our products.
We're totally confident that you'll love these products from the Vivo skincare for men collection! Get yours today!
---