9 Reasons to Start Using Vivo Per Lei Skincare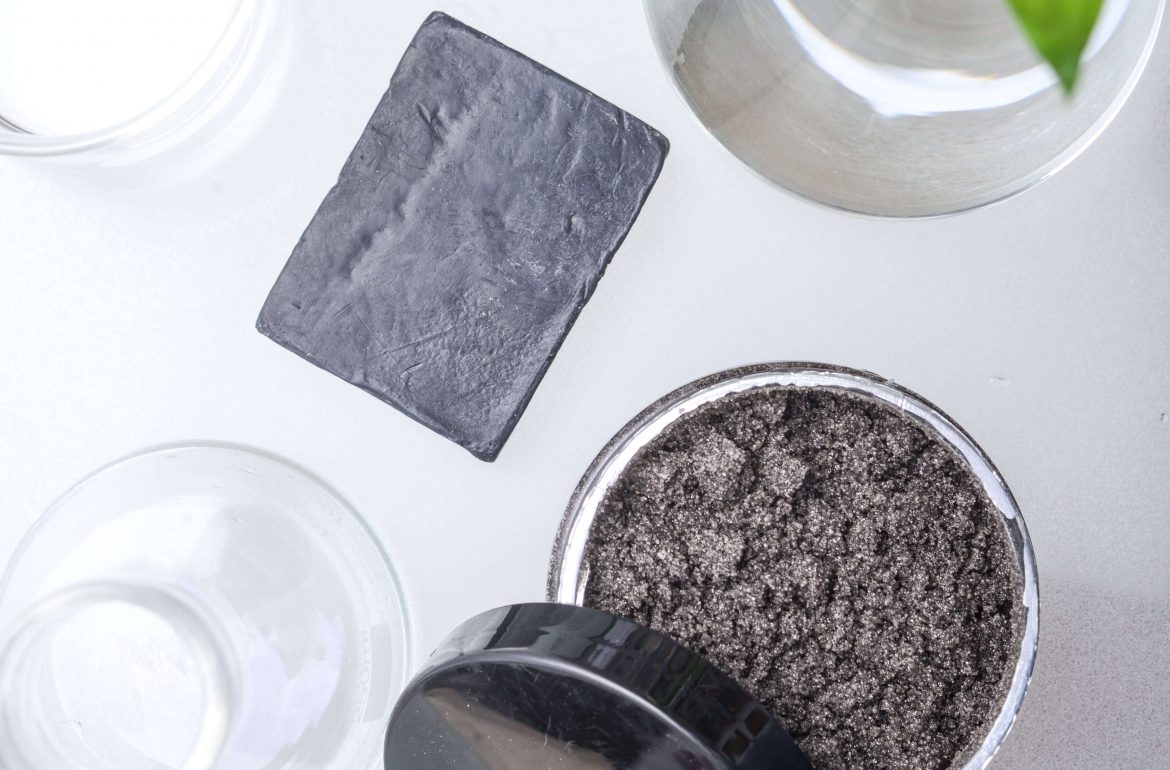 We're pretty sure everyone can agree that skincare is an investment. So, we invest our time and money into skincare, hoping to attain that youthful glow.
When looking for the perfect skincare product, it's always best to go for a brand that uses ingredients that are powerful yet kind to your skin. Here at Vivo Per Lei, we are committed to bringing all you skincare enthusiasts only the best products money can buy. Additionally, Vivo Per Lei skincare is budget-friendly. We're all about chic yet affordable skincare that doesn't break the bank.
Here's why you should start using Vivo Per Lei skincare in your daily routine: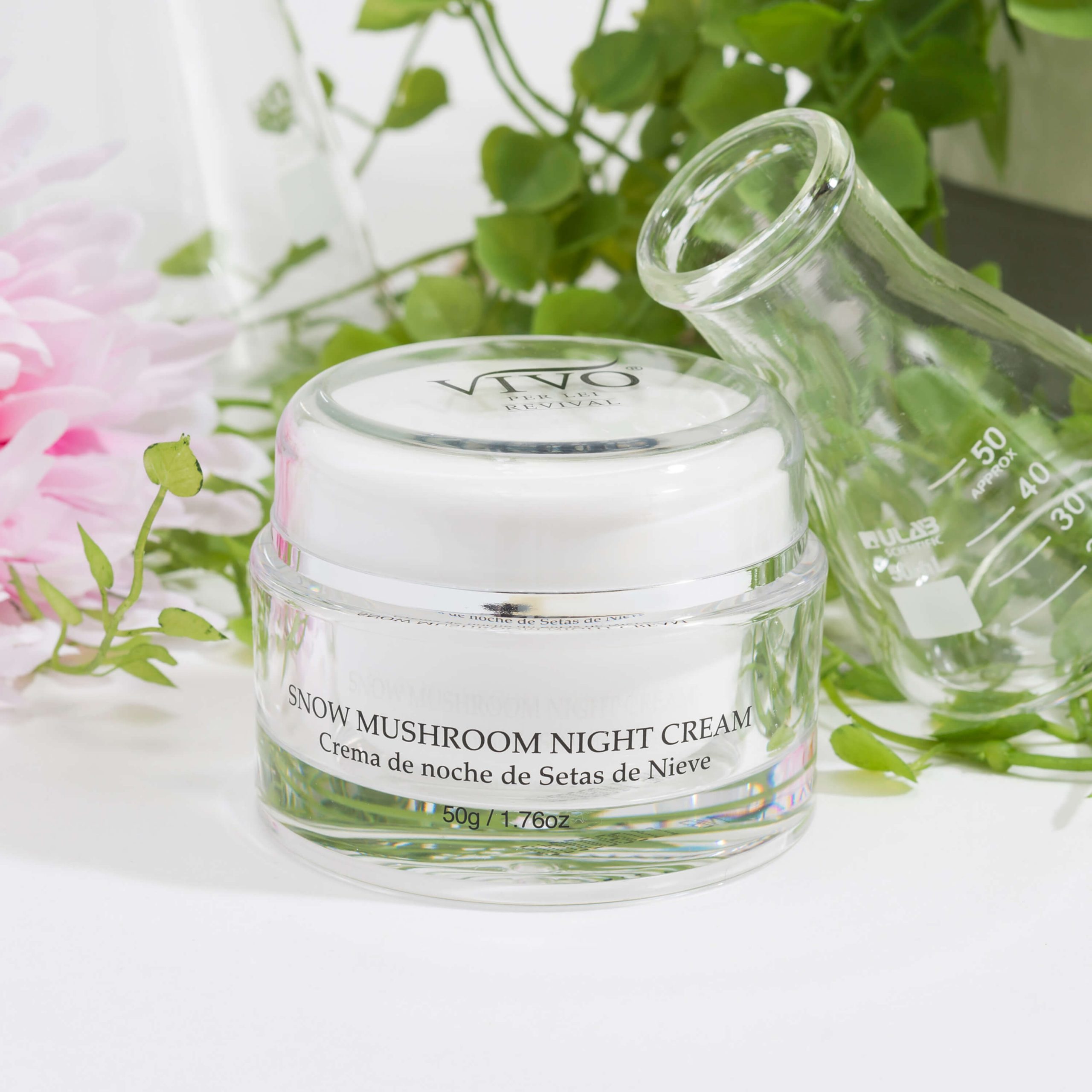 Using a moisturizer suitable for nighttime is vital because your skin heals itself when you sleep. The Snow Mushroom Night Cream helps lock in moisture as you get some good shuteye and wake up with dewy, bouncy, and hydrated skin.
Enriched with vitamin E and beta-glucan, it's the perfect cocktail of ingredients to help you achieve a glowing complexion.
Vitamin E is a powerful antioxidant, and some studies have shown that it may help reduce the impact of UV rays on the skin. In addition, using topical vitamin E nourishes and protects your skin from free radical damage.
Combined with beta-glucan, a potent polysaccharide that's better than hyaluronic acid, it adds to the humectant effect of this moisturizer, making it effective in hydrating your skin.
Beta-glucan is easily found in bacteria, fungi, and yeast and provides an excellent boost for your skin barrier function.
So, if you maybe have accidentally compromised your skin barrier by over-exfoliating, just pick up this bad boy!
This moisturizer also doubles as a great eye cream, so you can save your money because this product is two-in-one. This is just one of the reasons why you definitely should add this Vivo Per Lei skincare product to your everyday routine.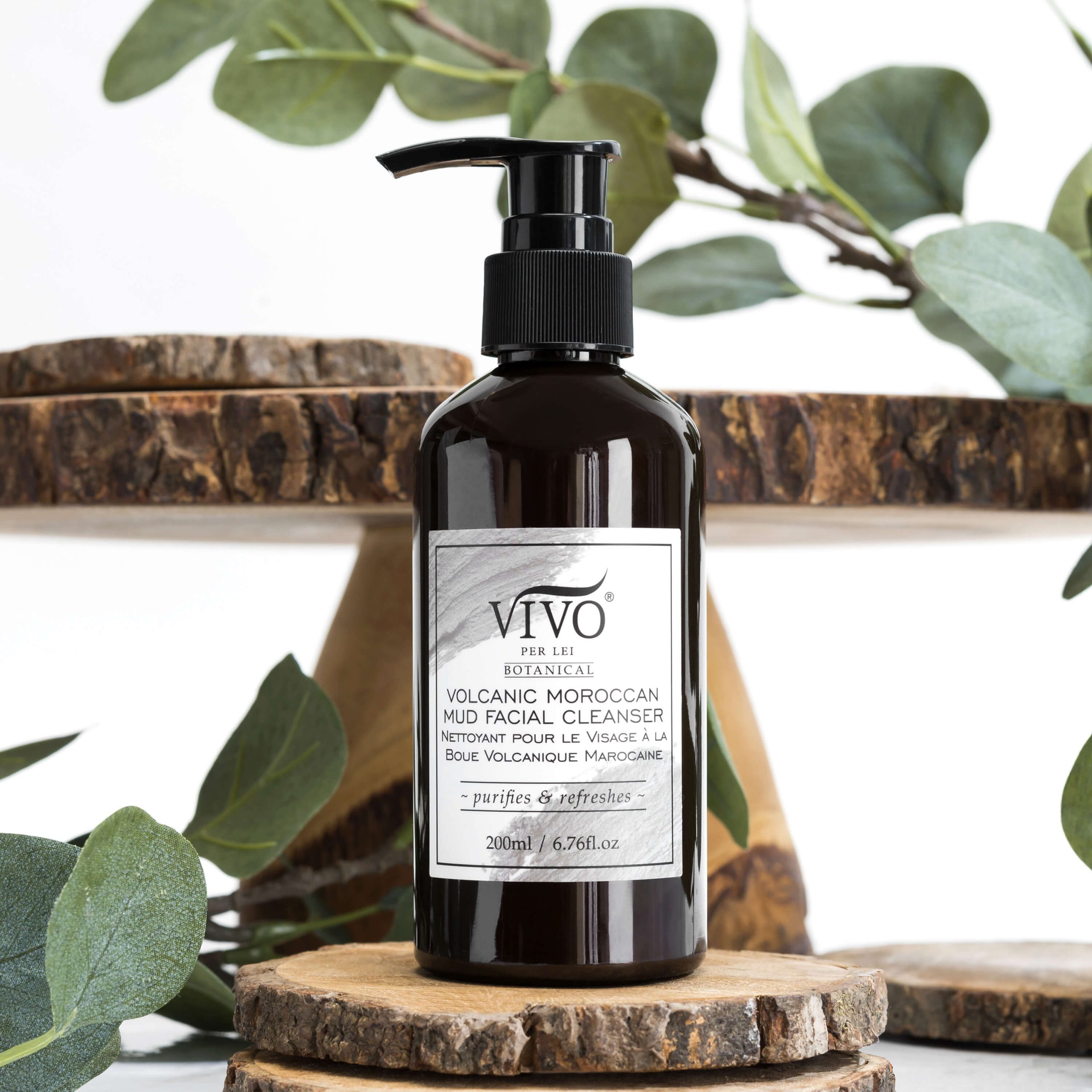 Are you struggling with an oily complexion?
Unfortunately, oily skin is a breeding ground for acne because all that excess sebum can clog your pores.
The Volcanic Moroccan Mud Facial Cleanser by Vivo Per Lei Skincare contains Moroccan lava clay that treats acne and detoxifies your skin at the same time.
By drawing out positively charged impurities, the negatively charged clay particles stimulate circulation and unclog pores. It also deposits its minerals into the skin, which are extremely beneficial and can help with your skin condition.
The best part is that Moroccan lava clay is suitable for sensitive skin. It won't strip away your skin's moisture when you use this face wash. But, it's not a good idea to wash your face too much, as you may potentially remove the natural oils.
This cleanser also contains aloe vera and jojoba oil. Both are great contenders in the skincare-sphere.
Aloe vera, nature's remedy, is chock-full of vitamins and enzymes that help combat inflammation. It also aids in UV exposure and has a few skin healing properties because it can increase the collagen content of your wound.
On the other hand, jojoba oil is a wonderful humectant ingredient, helping seal your skin to prevent moisture loss. This oil also contains natural sources of vitamin E. When you're exposed to pollutants and other toxins on a daily basis, the natural moisturizing benefits of jojoba oil can help your skin fight oxidative stress.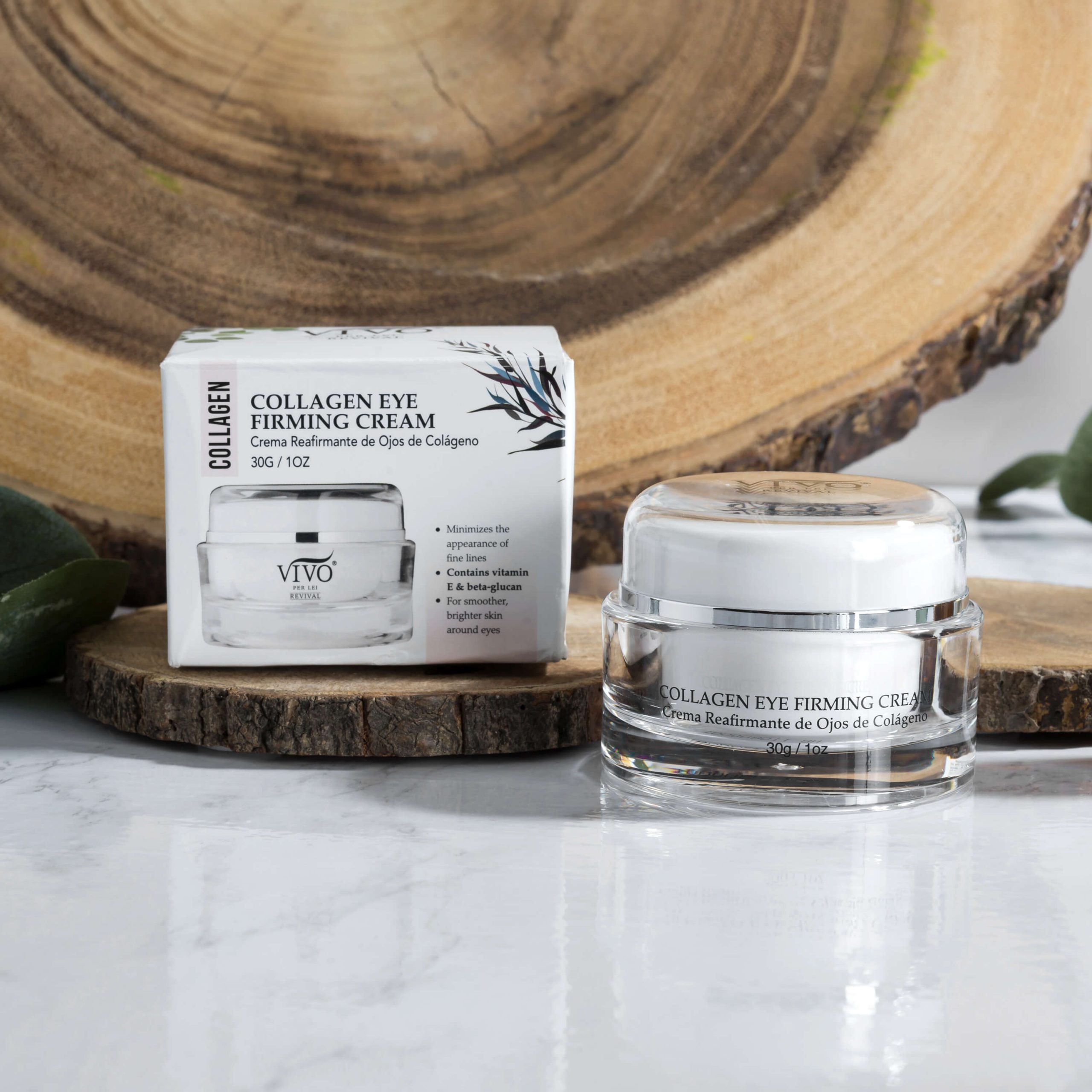 Did you know your under-eyes are the first part of your body to show signs of aging?
Since the skin around your eyes is thinner and more delicate than the skin on other parts of your body, crow's feet can quickly become more prominent. UV rays, external stressors, and lifestyle choices also accelerate the aging of the skin around the eyes.
This Vivo Per Lei skincare product comes in the form of a luscious eye firming cream that will help combat the appearance of wrinkles.
Revive tired-looking skin around the eyes with a boost of collagen that will help improve the skin's elasticity. Generally, your skin's collagen level starts depleting once you hit 25 years old. This is why it's important to start taking care of your undereye skin as early as possible.
Vivo Per Lei stands out as a skincare brand because our products are paraben-free as well. We don't use parabens in the manufacturing process of our products, so our consumers can rest assured that our products are safe to use.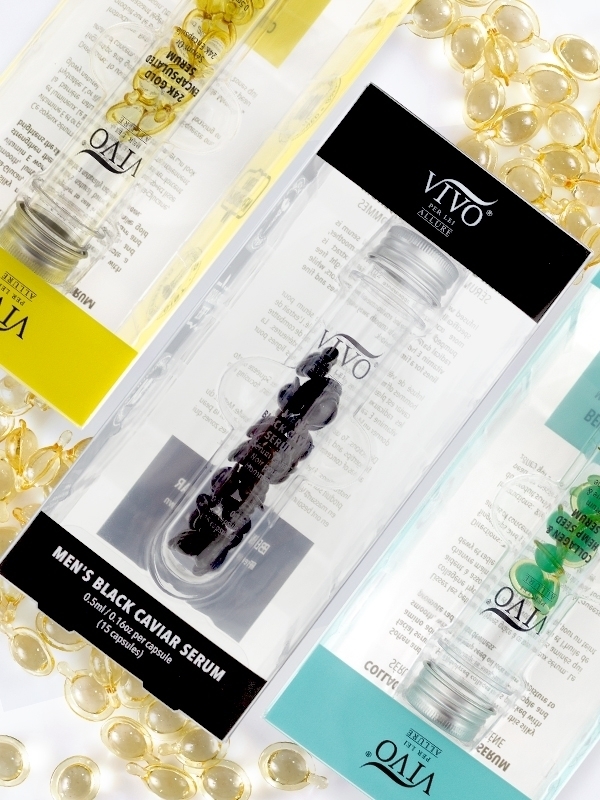 Another highly effective Vivo Per Lei skincare product is the Collagen & Hemp Seed Serum Capsules.
These single-dose serum capsules are very potent because they don't oxidize as much as a regular bottled serum would. In addition, they're travel-friendly. You can simply decant the exact amount you need without worrying about wastage.
Packed with amino acids, this serum contains hydrolyzed collagen to give you supple and smooth skin.
Amino acids are a great ingredient to incorporate into your skincare routine if you want that plump skin.
They can hydrate, increase your skin's water retention, reduce inflammation, and boost other product's effectiveness in being absorbed into your skin. Generally, amino acids are a skincare superhero!
Harness the Power of the Dead Sea With Vivo Per Lei's Salt Scrub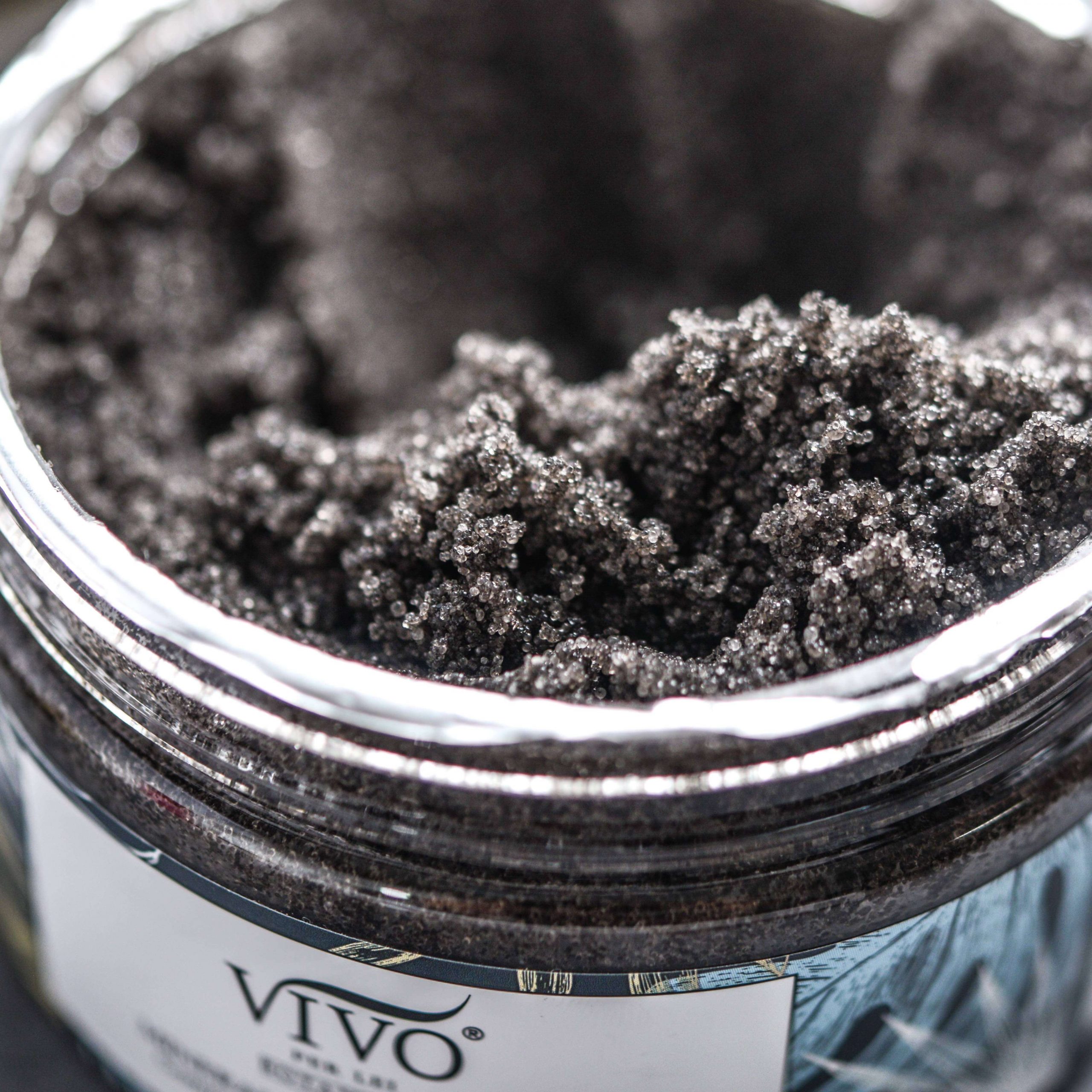 Exfoliating eliminates dead skin cells, helping your skin stay silky soft and smooth.
Your skin sheds dead skin cells naturally every month or so. New skin cells form the top layers of your skin when this happens. You may suffer from dull, dry, and flaky patches if your dead skin cells don't shed.
It's important to exfoliate regularly to rid your skin and body of dead skin. It also helps to improve other skin imperfections.
With the Vivo Per Lei Skincare Salt Scrub, you can slough away your dry and rough skin with Dead Sea Salt that's high in its mineral content.
Your skin will look more luminous and feel so smooth to the touch after a little exfoliation sesh.
How to Exfoliate Your Skin With the Vivo Per Lei Scrub
For best results, make sure to exfoliate your skin gently. If you're constantly hard on your skin, it can be detrimental to the skin's health, leading to microscopic tears. Instead, you should exfoliate your skin right before getting in the shower or right after you get out of the bath.
The best way to achieve an exfoliation is to make small, circular motions over the area you want to exfoliate. Give each area a thorough scrub for about 20 to 30 seconds, then rinse it off with warm water. Use a nourishing body moisturizer like the Vivo Per Lei skincare Shea Body Butter Devotion after exfoliating to help keep your skin moisturized.
Worried about removing dry, dull skin without disturbing your skin's natural oil production? In that case, we recommend exfoliating at least two weeks apart to allow for your skin's natural oil production to go on its regular routine.
To prevent skin irritation, avoid exfoliating if you have any cuts, open wounds, or sunburn.
Vivo Per Lei skincare's Dead Sea Salt range also includes facial care products like the Cell Renewal Night Cream, Facial Peeling, and even a Men's After Shave Balm.
Get That Hydrated Glow With Vivo Per Lei's Dead Sea Toner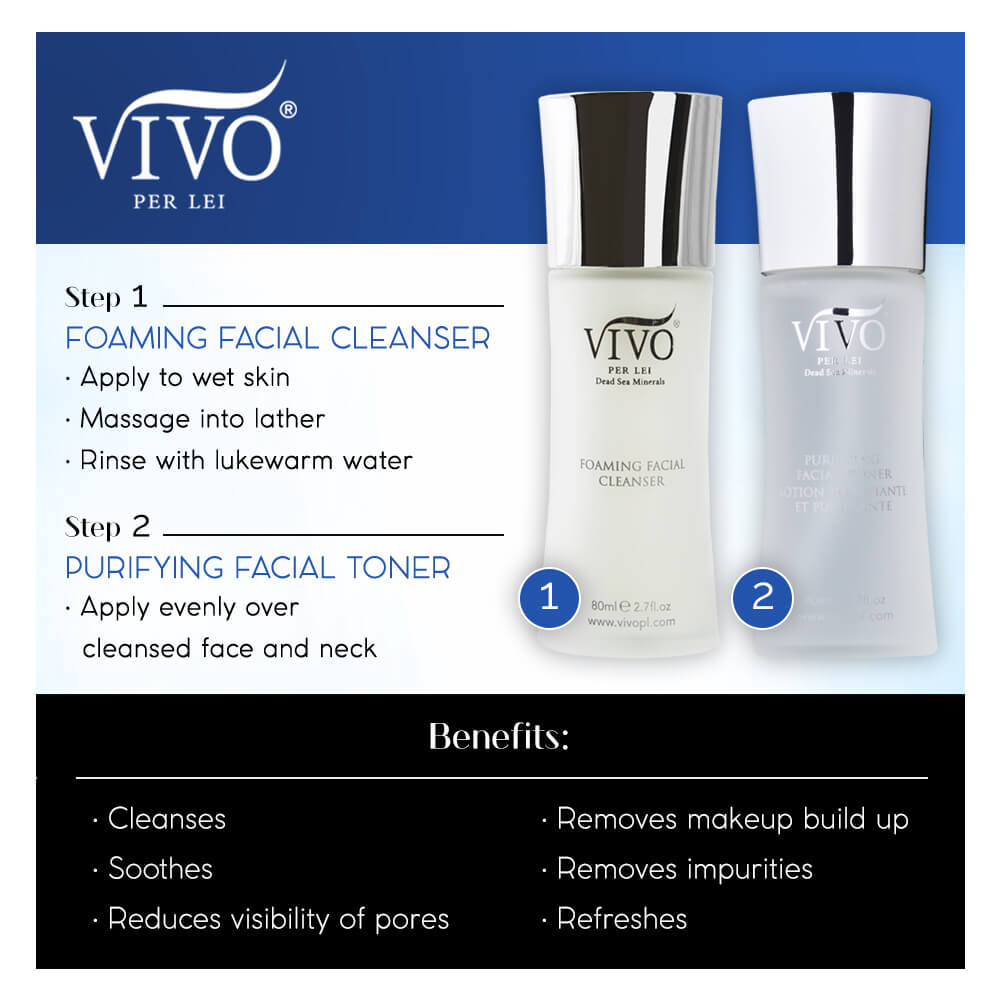 Prepping your skin after giving it a good cleanse is a crucial step in your skincare routine. Not only will this product leave your skin feeling soft, but it will also help to prep your skin for the application of your favorite Vivo Per Lei skincare products.
Your ultimate skincare weapon is your toner. It will go that extra mile in giving you that radiant skin you've always wanted. Using a toner can help maintain pH balance, retain moisture, and diminish the signs of aging in your skin.
Vivo Per Lei skincare's Dead Sea Toner utilizes the goodness of glycerin, castor oil, hyaluronic acid, and salt to help shrink your pores, moisturize and increase your skin's collagen synthesis.
This product's formula is very gentle and doesn't contain any alcohol, meaning that it will not dehydrate your skin.
You can also try layering this toner on your skin for that extra boost of hydration. Sandwiching layers of this hydrating toner can be an effective way to deliver the moisture your skin needs.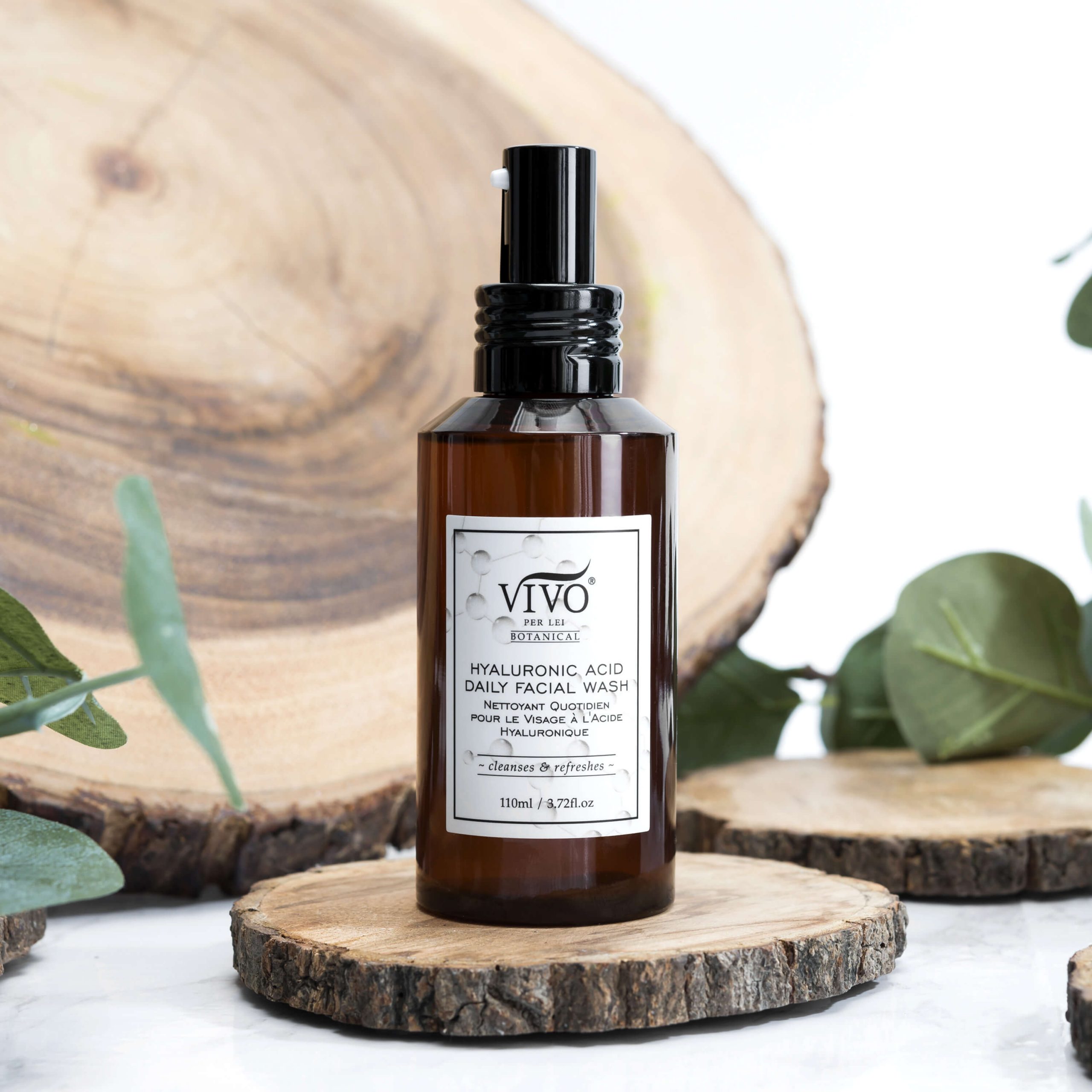 Want glowing, blemish-free, and most importantly, hydrated skin? Using skincare products that are enriched with hyaluronic acid might be your best bet!
Hyaluronic acid has so many incredible benefits that it's become a must-have to every skincare arsenal. It has anti-aging and wound healing properties, for starters, and it's also a very good hydrator for your skin.
Moisturized skin has a high water content, and hyaluronic acid prevents transepidermal water loss, or TEWL. Like other humectants, hyaluronic acid works by slowing the rate at which water evaporates from your epidermis.
The Hyaluronic Acid Daily Facial Wash by Vivo Per Lei is chock-full of hemp oil as well.
Hemp oil, also known as hemp seed oil, has a myriad of uses in the world of skincare. Among its benefits are that it can help regulate oil production, aids with inflammation, and even has anti-aging properties.
Due to its non-comedogenic qualities, you won't have to worry about your pores getting clogged, either!
This oil also contains omega-6 fatty acids that encourage skin growth and new cell generation, helping you nourish your skin and soothe it at the same time.
Having said all of that, we'd recommend this Vivo Per Lei skincare product to those who have sensitive, dehydrated skin. It is also enriched with jojoba oil and hydrolyzed algae extract for that extra moisturizing action, so you won't have to deal with parched skin after a good wash.
Worried About Those Pesky Pimples? Use This Activated Charcoal Facial Mask for an Instant Remedy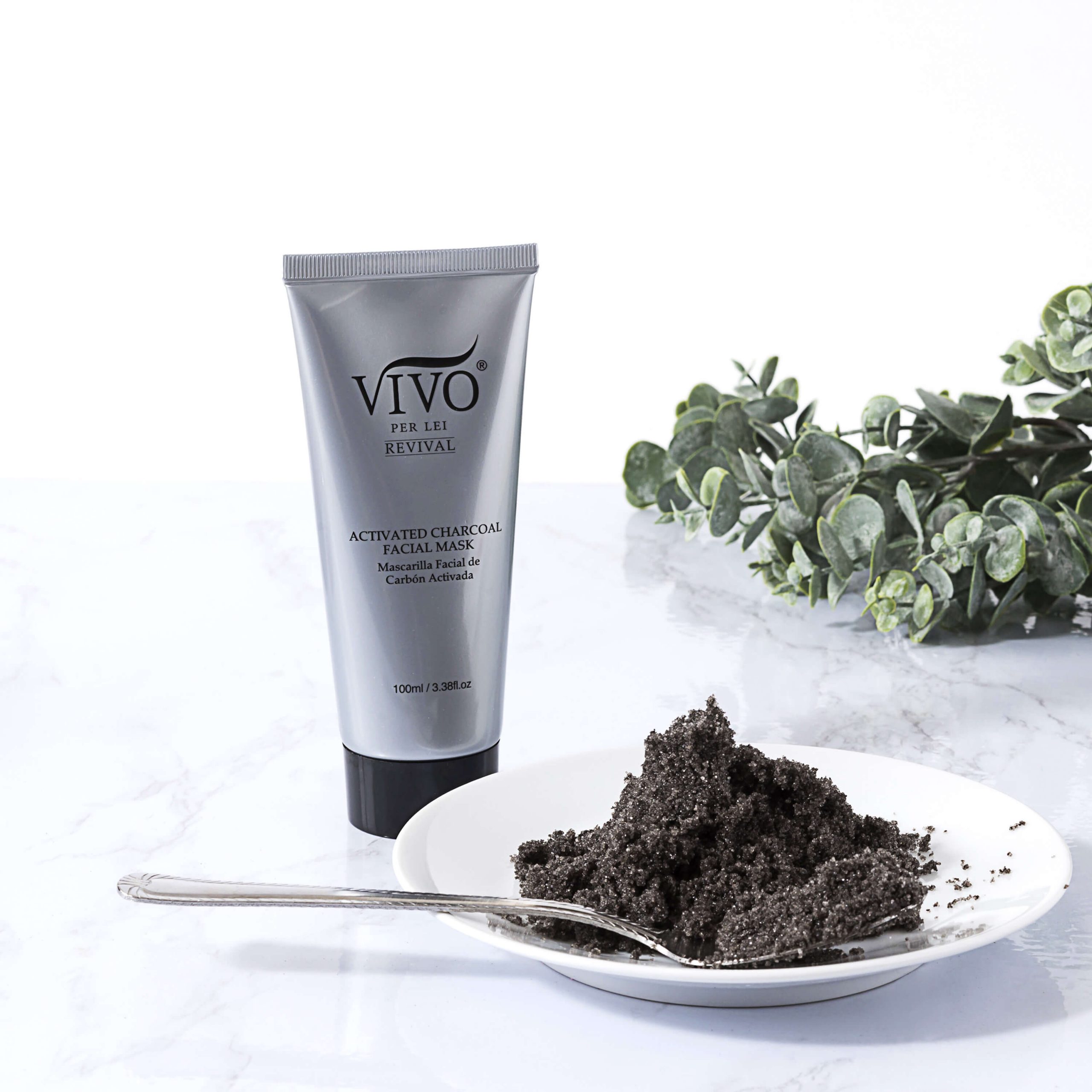 This mask in a tube features activated charcoal as its active ingredient, which can help remove bacteria and suck out impurities from your pores. Besides that, this ingredient can also control your skin's oil production by removing dead skin cells and absorbing excess oil.
Another interesting thing about activated charcoal is that it can be used to treat insect bites. What activated charcoal does is that it neutralizes the toxins found in insect venom, which is usually the culprit for any itchy or swelling sensation.
Activated charcoal has become a popular ingredient in skincare products nowadays because it is a very beneficial ingredient.
For a healthier complexion, you can use this mask twice a week as a weekly detox treatment for your skin to draw out all the gunk, buildup, and grime.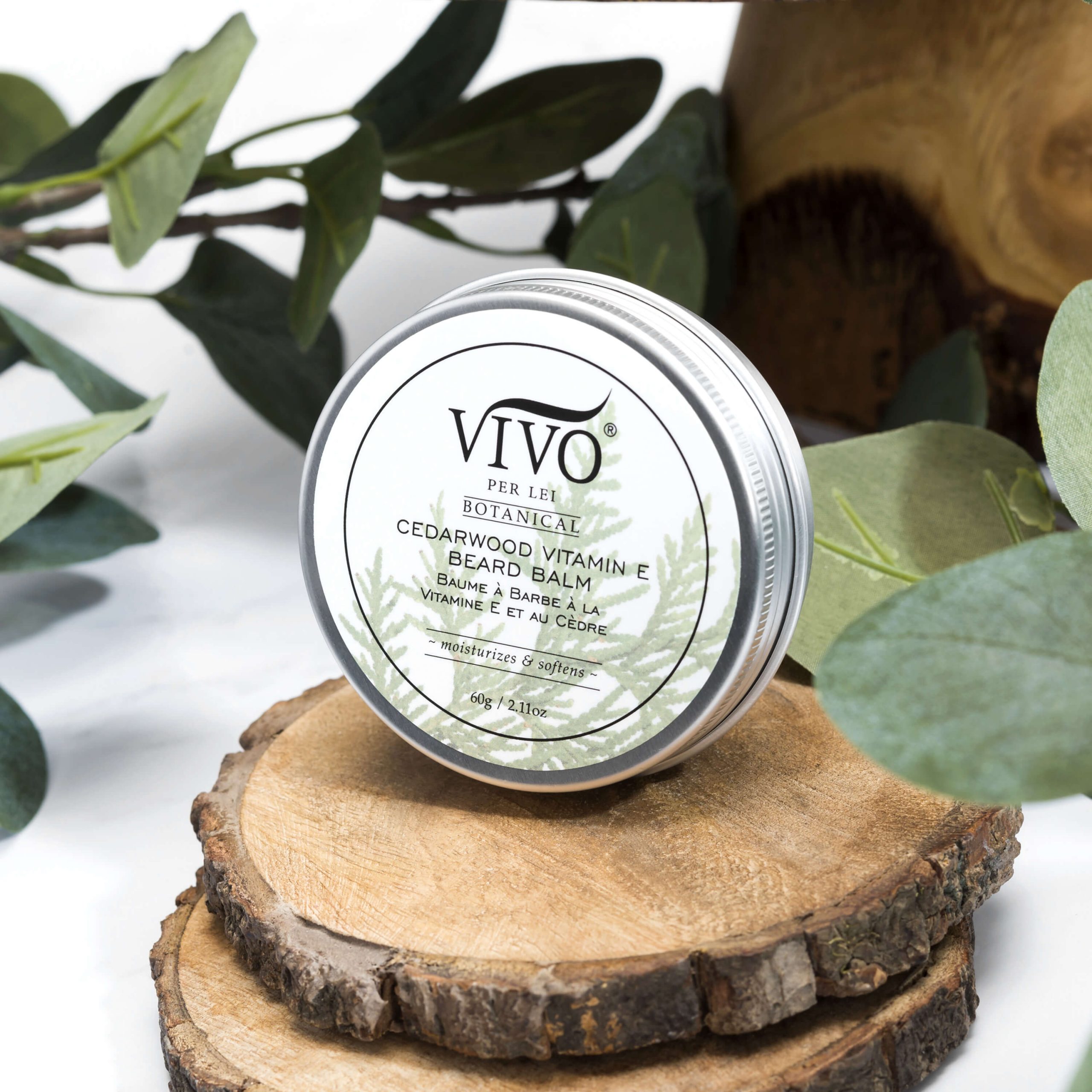 From beard oils to beard balms to 3-in-1 washes, Vivo Per Lei skincare has got just what you need.
Formulated with a blend of natural but potent extracts, this Vivo Per Lei range caters to men who take want to attain that healthier complexion without the use of harmful parabens in their skincare routine.
To pamper your skin, reach for the Men's Black Caviar Serum Capsules. This facial serum is infused with real caviar extract, so you can attain a more refined, smoother appearance. In addition, caviar extract helps to fight free radical damage and environmental stressors while also helping to firm skin.
If you're looking for a skincare brand that's ethical and doesn't break the bank, you should definitely check out Vivo Per Lei. We've got something for everyone, so it doesn't matter if you have oily, dry, or combination skin because we've got your back!
Clear skin is just a skincare routine away with Vivo Per Lei.
---