A Closer Look at the Vivo Dead Sea Collection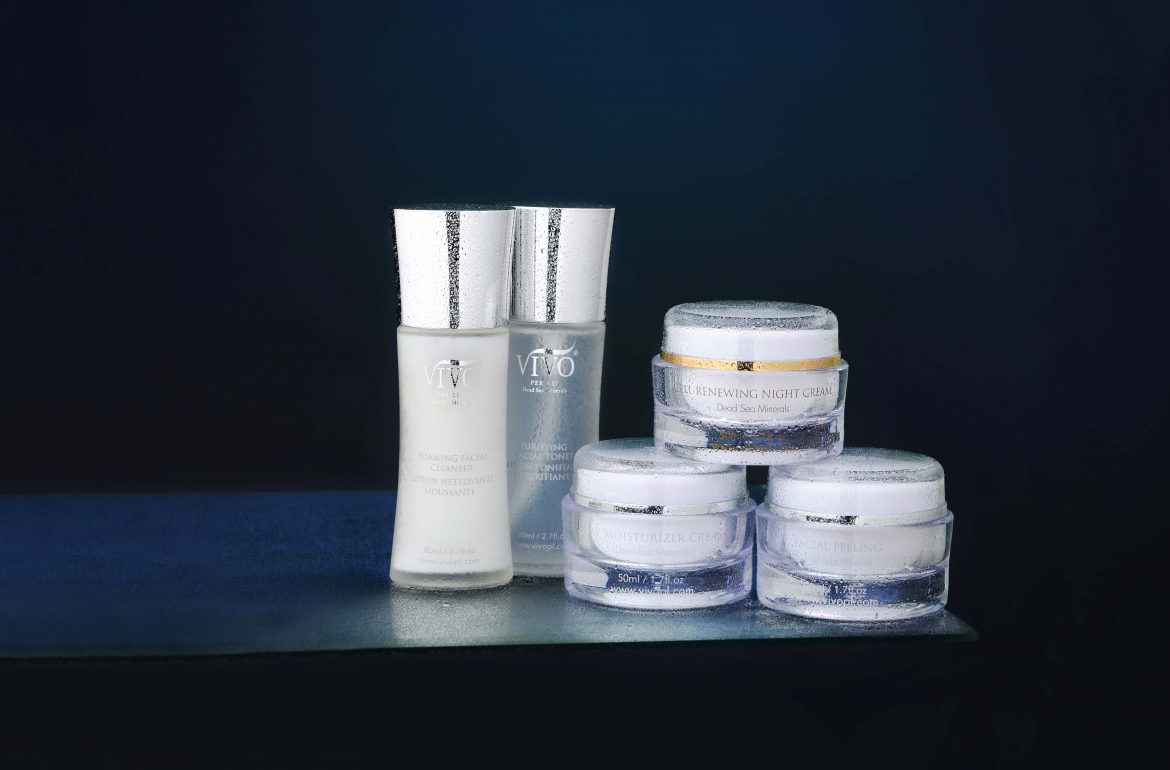 When we think of the Dead Sea, many of us immediately conjure up images of blue waters in the Mediterranean Basin, or its foamy, salted shoreline. But there is more to marvel about the Dead Sea than you may realize.
It contains a skin healing wonder within its depths.
We'd love to tell you more about what we know about this secret complexion-curing wonder of the Dead Sea, and how at Vivo Per Lei, we have harnessed the power of these miracle workers and infused them into the products in our Vivo Dead Sea Collection.
For the products in this collection, we have carefully chosen a combination of powerful botanical extracts and vitamins to work in tandem with a special Holy Grail ingredient for your skin. These ingredients work in harmony to give our customers the gorgeous skin and renewed confidence they desire.
Curious about this power-packed mystery ingredient from the Dead Sea? Want to know more about our Vivo Dead Sea Collection? Looking to learn more about how the products in this collection tackle your skin and aging concerns?
Stick with us at Vivo Per Lei – you're about to find out!
The Vivo Dead Sea Collection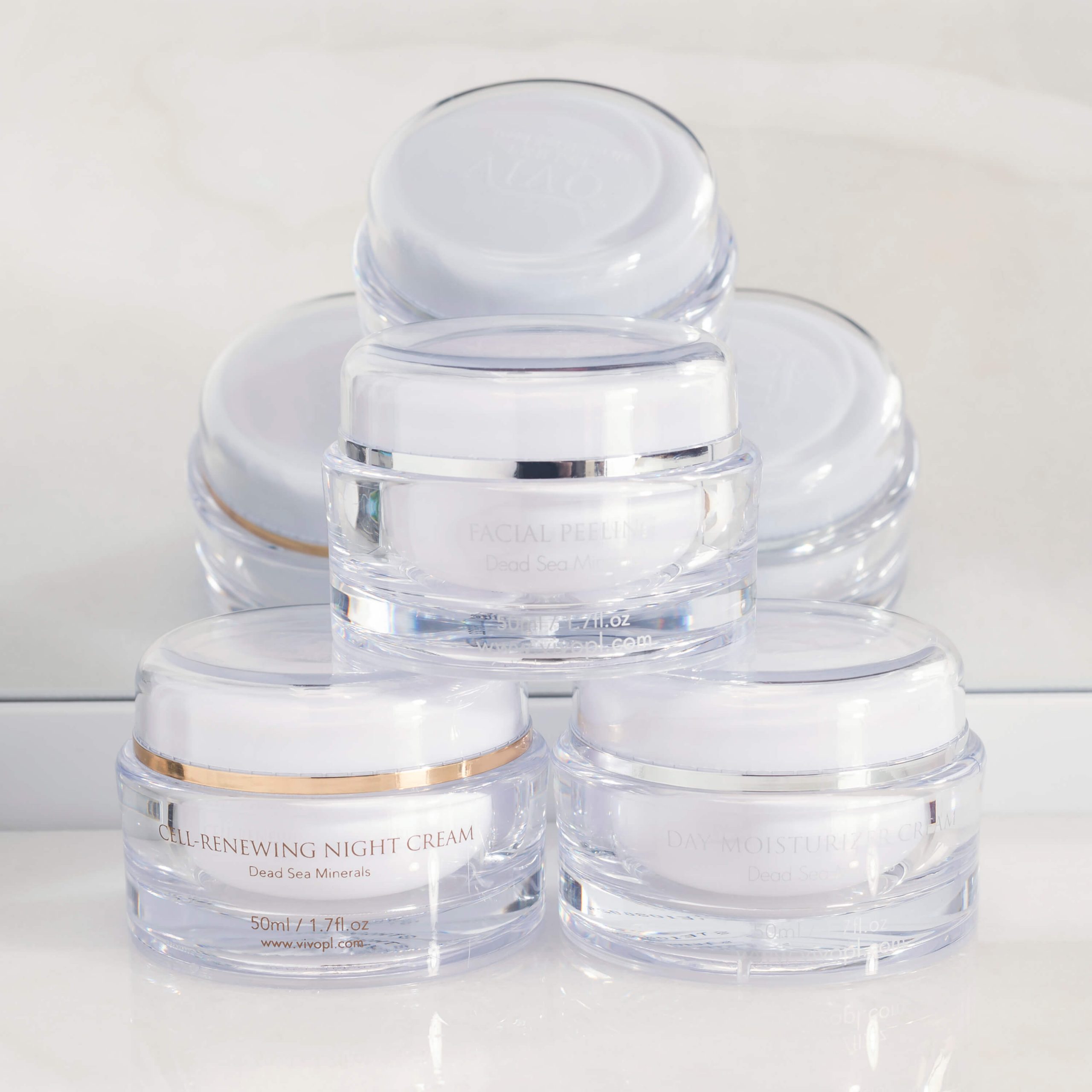 Before we present you with the to-die-for products in this popular collection, let's back it up a little by getting a clearer picture of the current needs of your skin, and the changes you've been noticing with your complexion recently.
Have people been telling you that you look tired when you are wide awake?  Do you feel as though your complexion is aging you prematurely? Does your skin never look quite clean, no matter which skincare products you use?
If you find yourself nodding a frustrated, "Yes" to any of these questions, then we're so glad you are with us here today! The products in our Vivo Dead Sea Collection are perfect for you. They will deliver the amazing results you are looking to achieve.
And now, onto the specifics about the targeted results, you long to receive from your skincare products.
Are you noticing:
Fine lines and wrinkles?
Age spots or Red Patches?
Dull-looking skin?
Sun-damaged skin?
Dry skin that lacks moisture?
Skin that is losing its taut, plump appearance?
Blackheads and whiteheads?
If so, don't fret!
The good news is that if you are noticing any of these specific skincare concerns, there is hope! The Vivo Dead Sea Collection can restore your skin to its youthful prime, delivering stunning results that address all of these concerns!
We've developed this collection to meet the needs of all skin types, including mature skin and sensitive skin. The products in our Vivo Dead Sea Collection are here for all of your skincare needs.
About Our Ingredients
Within the products in our Vivo Dead Sea Collection, you will find our special ingredient – Sea Salt – among a plethora of other highly effective ingredients.
Sea Salt – The ingredient that gave this collection its name. Found in the Dead Sea, Sea Salt helps to deeply cleanse your skin, clearing your pores thoroughly and providing much-needed vitamins, minerals, and nutrients. Sea Salt encourages the growth of newer, younger skin cells as well.
Hyaluronic Acid – Naturally occurring in the body, it helps your skin stay moist, fully hydrated, and glowing. The use of products with this ingredient also boosts the youthful plumpness of your skin, reducing the appearance of fine lines and wrinkles.
Coconut Oil – A multi-talented natural oil, it brings hydration back to the skin, and helps your skin maintain hydration. Skilled at preserving the smoothness of your skin and repairing your skin's natural barrier, it also treats acne and eczema.
Vitamin E – Nature's perfect beauty-boosting vitamin, vitamin E strengthens your skin's outer layers. This helps to keep your complexion protected from UV rays, harmful free radicals, and pollutants.
Cacao Seed Oil – Also known as Cocoa Butter, this fatty acid is a powerful antioxidant that increases collagen production in your skin. A natural emollient, it also helps to reduce inflammation, redness, and dark spots on your skin.
Salicylic Acid – This ingredient works as a gentle exfoliant that locks moisture into your skin's vulnerable outer layers.
Allantoin – Sourced from nature, this gentle, non-irritating ingredient helps to smooth aging skin and increase the production of newer, younger skin cells.
As you can see, the ingredients that we've chosen for the products in our Vivo Dead Sea Collection work to address and target all of your skincare concerns!
Facial Peeling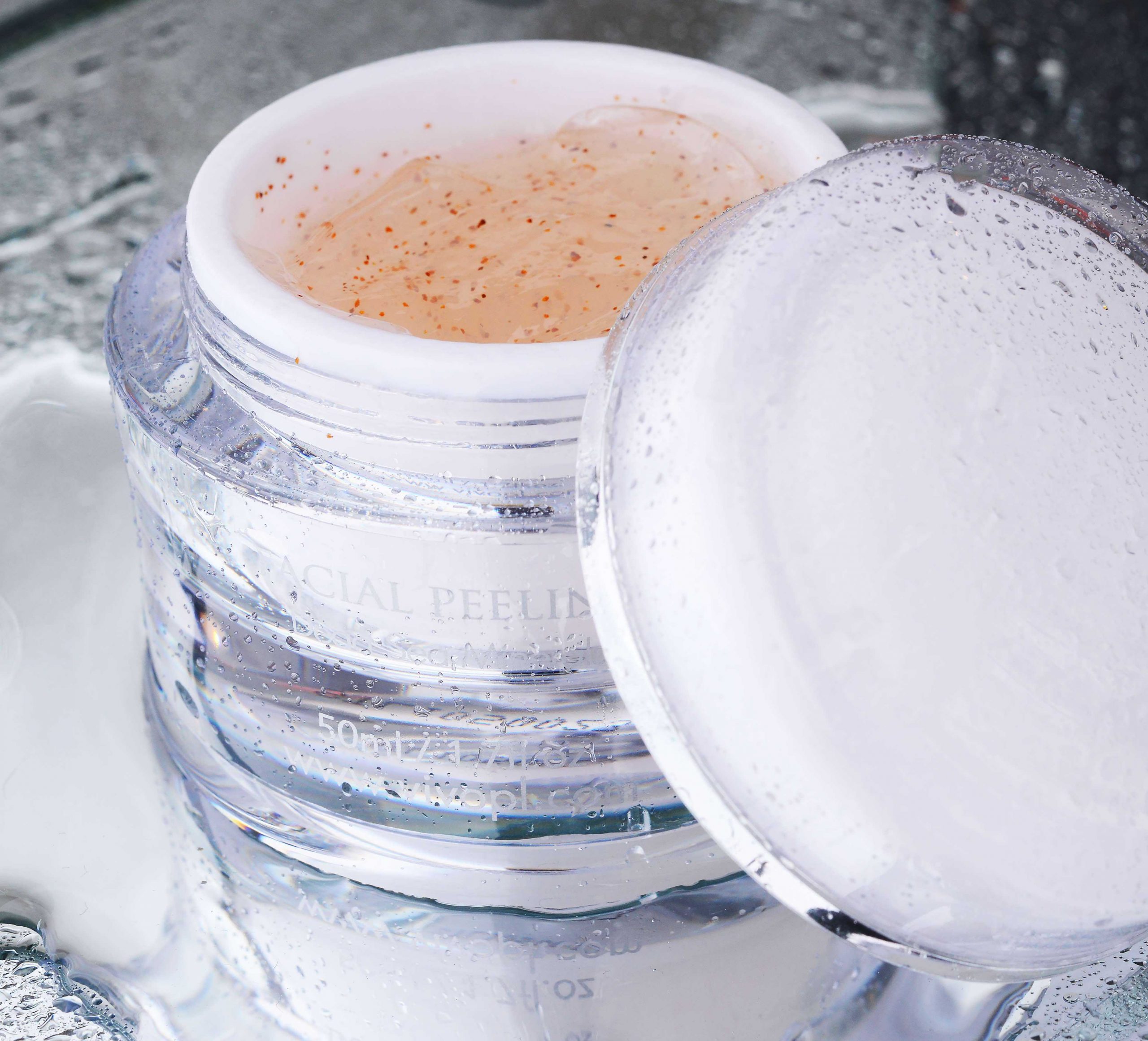 One crucial step in your daily skincare routine is exfoliation. Exfoliation is a process that rids your complexion of dark spots, uneven tone and texture, and old damaged skin. Exfoliating products, such as the Facial Peeling from the Vivo Dead Sea Collection, also clear your pores of dirt, sweat, makeup, and oil.
When you use an exfoliating product such as our Facial Peeling, the ingredients go to work immediately at getting rid of this aging buildup, while gently exfoliating your skin with powerful results.
Our Facial Peeling is a nourishing blend that works well on every skin type. But don't let the fact that it works gently on your skin fool you – it provides a deeply cleansed finish!
With Glycerin, a humectant, improving your skin's ability to retain moisture, and Nut Shell Powder, for gently exfoliating and restoring your skin, you can be sure that adding our exfoliating product into your daily skincare routine will be a decision that leaves you with a dramatically polished complexion that will turn heads.
Cell Renewal Night Cream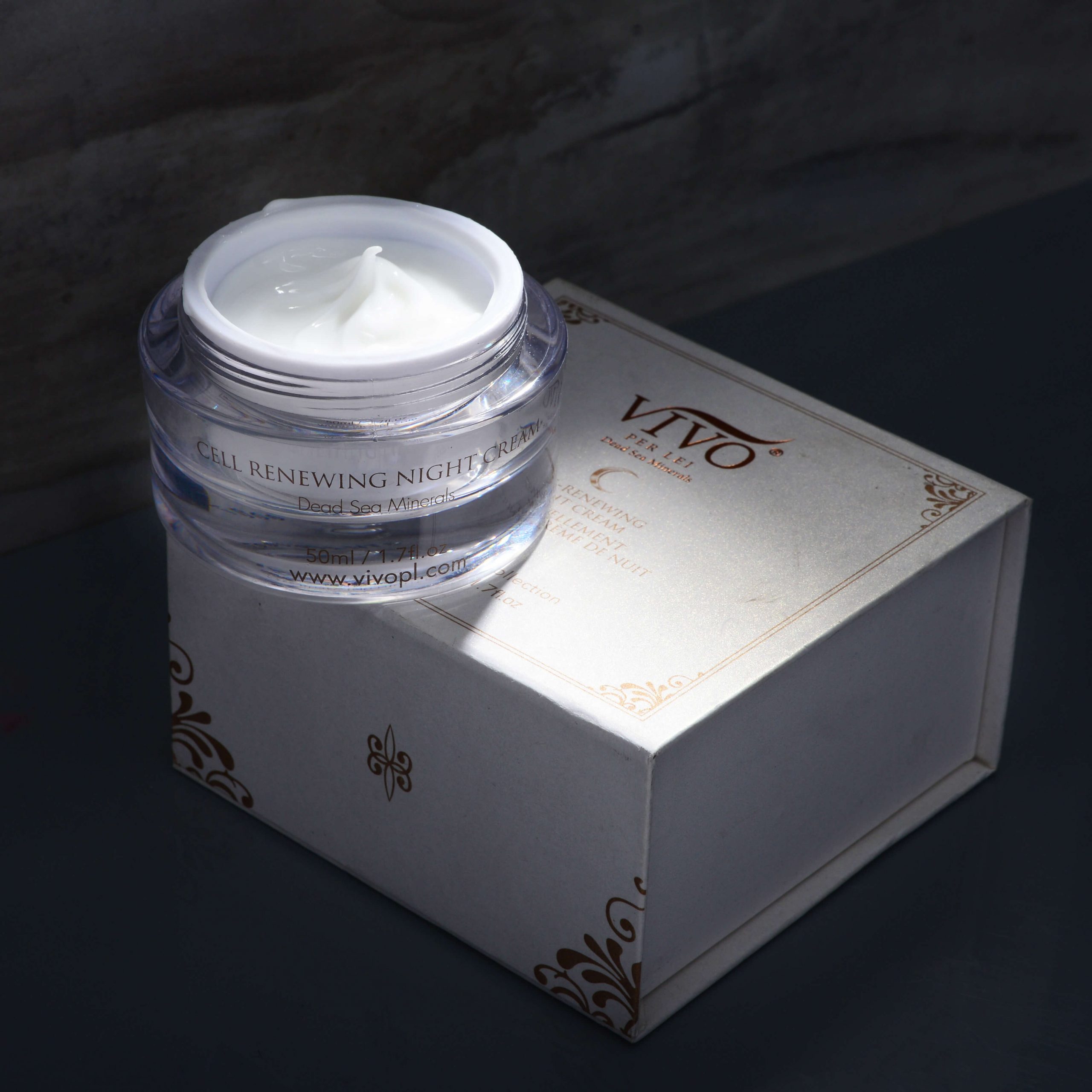 During the night, our skin repairs itself.  Free from UV rays, pollutants, and the elements, nighttime is a time when your skin is in desperate need of products that provide it with the rich nourishment it needs to stay healthy and hydrated.
Our Cell Renewal Night Cream is the night cream you can count on to provide targeted hydration to your parched skin, restoring your complexion while you rest.
When your skin is treated to this restorative cream during the night, you wake up to a much softer, silkier complexion.
Our Cell Renewal Night Cream is fortified with proven, effective ingredients that deliver transformative results. These ingredients intensely hydrate your skin. They reduce the appearance of lines and wrinkles while making your skin touchably soft with a luminous morning glow.
Some of its key ingredients include:
Glycerin
Sunflower Seed Oil
Mineral Oil
Shea Butter
Allantoin
An amazing combination, right?
Why not give our Cell Renewal Night Cream a try and make your nighttime beauty routine a luxurious treat that yields daytime rewards that last!
Moisturizing Day Cream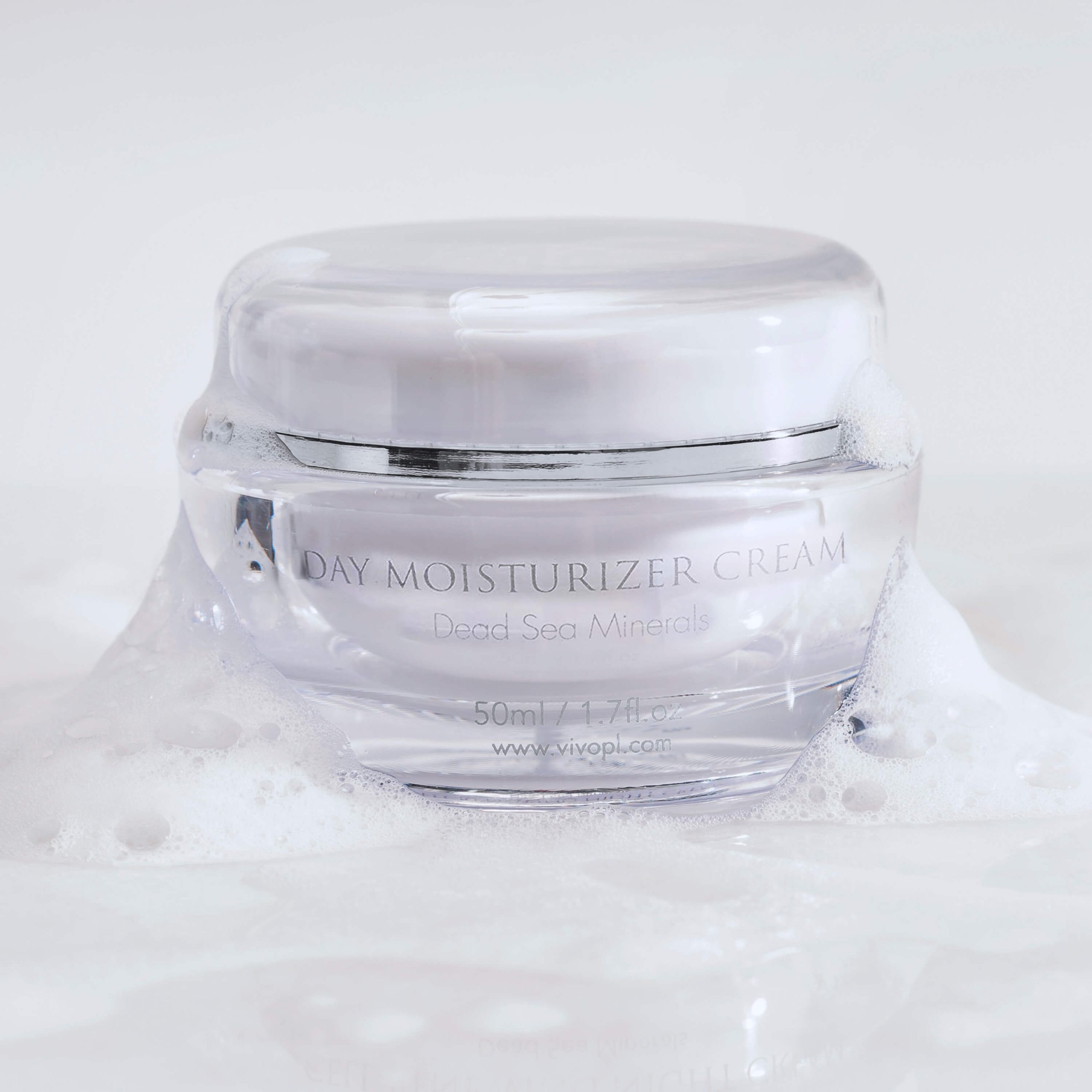 During the day, your skin is exposed and vulnerable.
UV rays penetrate your skin's outer layers, damaging the collagen and elastin fibers that you need to keep your skin youthfully tight and taut. You can point the finger at UV rays for age spots and wrinkles that you may be noticing lately. And all those environmental pollutants? You can blame them for wreaking havoc on your skin's protective barrier as well.
At Vivo Per Lei, we've developed our Moisturizing Day Cream with ingredients proven to protect your skin all day long. Infused with the beautifying properties of the Dead Sea, Sunflower Seed Oil, and Shea Butter, this lightweight formula provides fantastic skin-nourishing protection.
A powerful multi-tasking day cream, our specially formulated elixir absorbs easily into your skin. With the use of the combination of ingredients in our Moisturizing Day Cream, you can be sure your skin will be moist and hydrated. Best of all, your complexion will be super protected with a smooth and radiant finish.
Foaming Facial Cleanser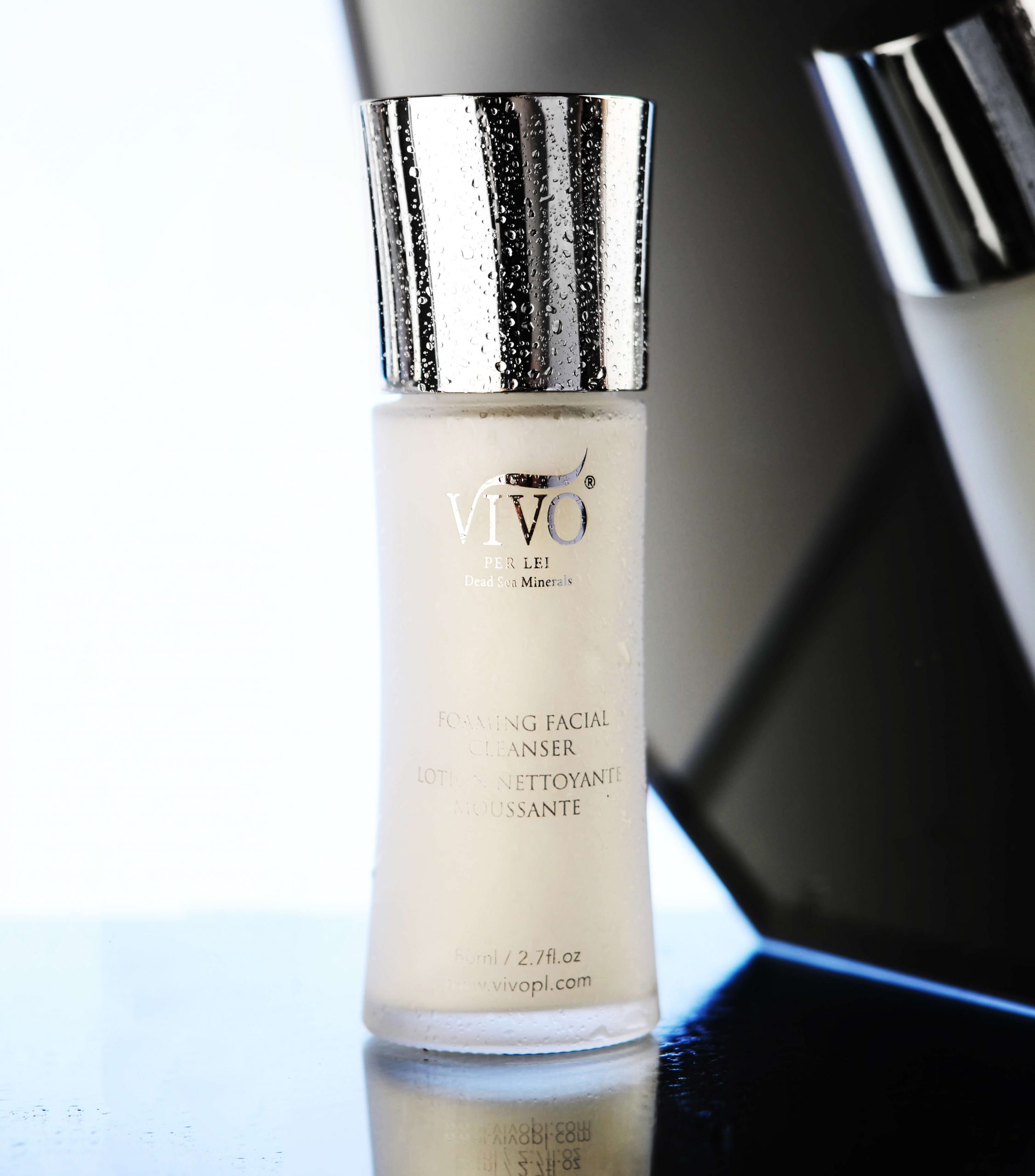 The first step of any skincare regimen is to cleanse your skin. This frees it of dirt and impurities while preparing it to absorb the other skincare products in your arsenal. And our Foaming Facial Cleanser is up to the task!
A gentle formula, this product from the Vivo Dead Sea Collection works on all skin types to give you renewed skin clarity. The ingredients in this cleanser deliver noticeable results.
At Vivo Per Lei, we have done our research and meticulously chosen the most effective ingredients for this cleanser. This cleanser is infused with a blend of Dead Sea Minerals and Witch Hazel Extract. These ingredients work in tandem to remove the accumulation of makeup, dirt, and excess oil on your complexion.
With your skin thoroughly cleansed and refreshed, it is better able to absorb the other products in your daily regimen. Our loyal customers have found that daily freshness is just moments away with the use of our Foaming Facial Cleanser!
Purifying Facial Toner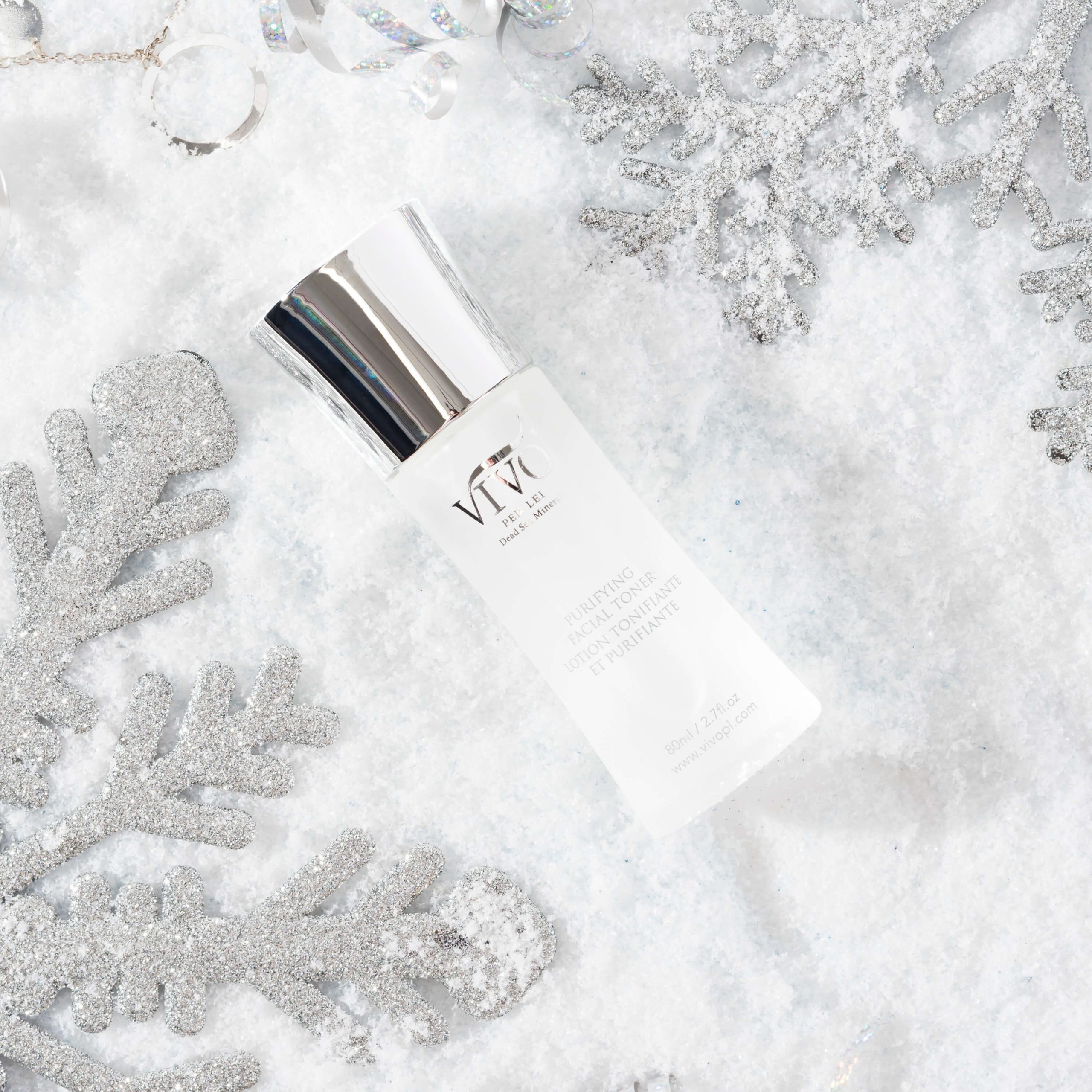 Are your pores noticeably large? Is your complexion patchy and uneven? Do you feel as though your skin is never quite clean?
If so, you'll want to incorporate our Purifying Facial Toner into your daily skincare routine.
We know that sometimes your cleanser needs a little extra help in clearing your skin and revealing the youthful glow beneath. That's why we've formulated this toner with carefully selected, powerful yet gentle, ingredients:
Dead Sea Minerals
Glycerin
Castor Oil
Allantoin
These ingredients work in harmony to remove the dirt, debris, and excess oil from your skin that your cleanser might sometimes leave behind. The magic of this toner is that it delivers targeted results. It does not strip your skin of its natural oils like many abrasive toners on the market.
When your skin is completely clear of built-up dead skin and other debris, you are left with a more youthful complexion that is smooth, even, and radiant.
The ingredients in this product work to reduce the size of your pores by tightening your pores after you cleanse. When you invest in your skin and use our Purifying Facial Toner, you are keeping impurities and harmful environmental contaminants from getting into your pores.
Men's After Shave Balm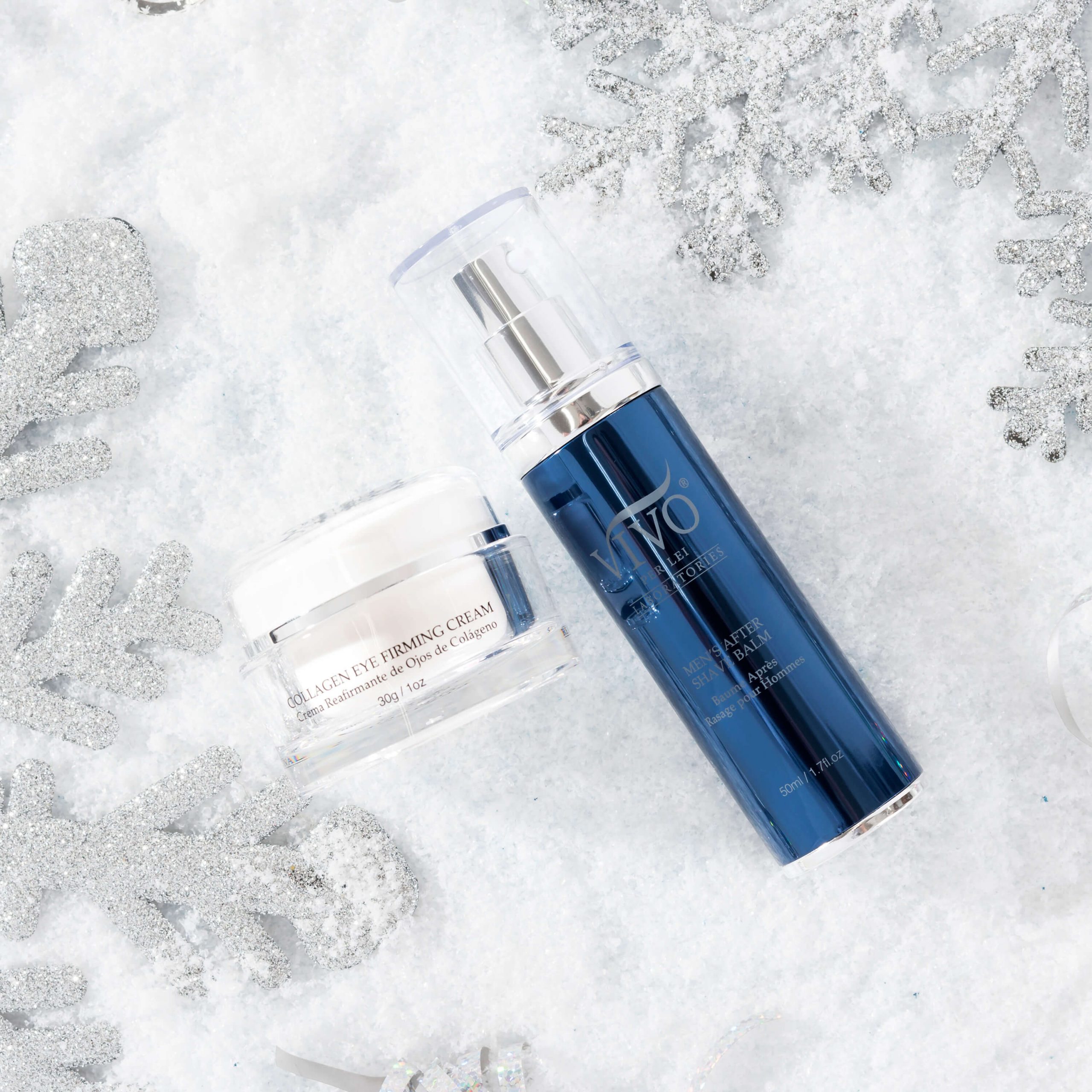 Are you looking to repair your skin post-shave? Is your skin irritated from shaving every day? Do you have sensitive skin that's making you dread your next shave?
If you answered "yes" to any of these questions, then this soothing balm is the product for you!
Our Men's After Shave Balm is a nourishing and moisturizing product that repairs your skin post-shave. If you have mild irritation, dryness, or skin tightness post-shave, you'll want a balm this one.
This balm is formulated with a proprietary blend of anti-inflammatory minerals and botanicals. It delivers impactful results to men by treating irritated skin and reducing inflammation where it matters.
The Dead Sea Minerals that we've infused into this balm, along with Ginkgo Biloba Extract, Seaweed Extract, and Aloe Barbadensis Extract, leave your razor burned skin restored, healing damage and leaving your face feeling smooth and touchable.
In Conclusion
Now you know the inside scoop on our Vivo Dead Sea Collection! The products in this collection will transform your skin from dry, dull, and damaged to youthfully smooth, clear, taut, and hydrated. Users of the products in this collection have noticed marked improvements and confidence-boosting results that last.
Formulated with skin-restoring Sea Salt, Vitamin E, Hyaluronic Acid, Shea Butter, and more, the products in our Vivo Dead Sea Collection have the combination of ingredients you need to address your skin concerns.
What are you waiting for? Get yours today at Vivo Per Lei!
---