Which Vivo Mask is Best for Aging Skin?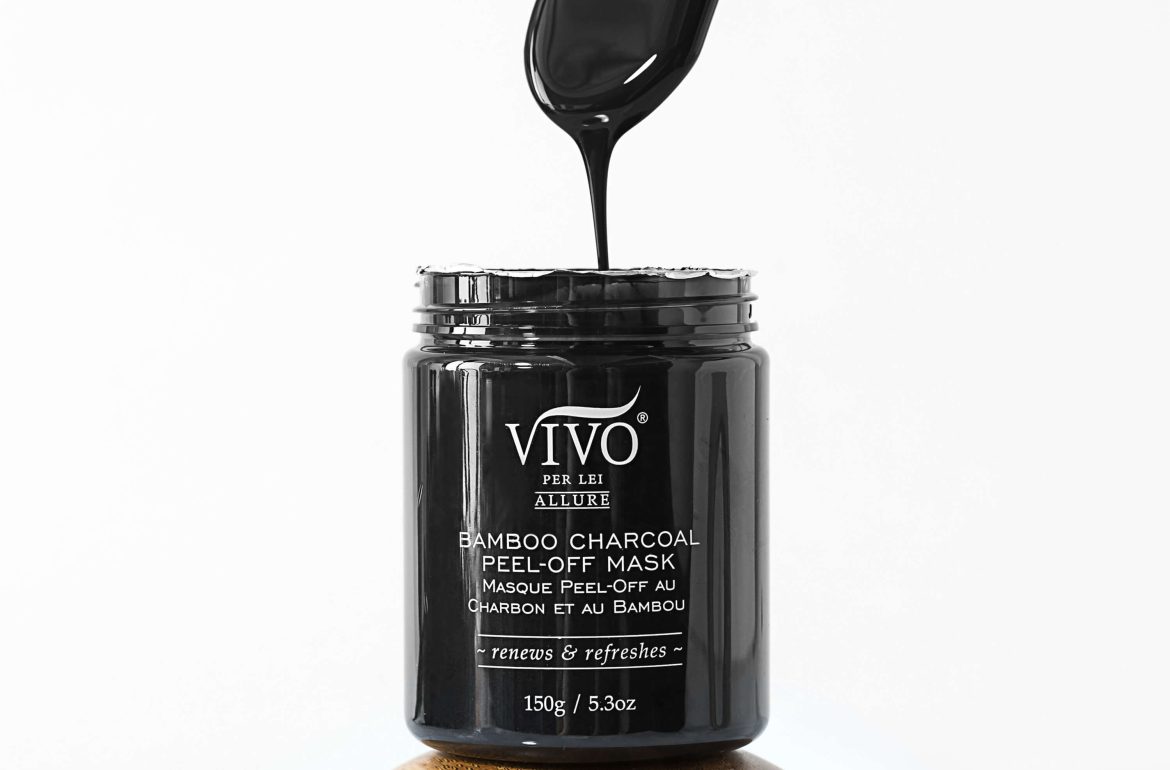 Face masks are a great way to reduce the appearance of skin aging. Whether you're dealing with fine lines, wrinkles, sagging skin, or a rough skin texture, the right face mask will help to diminish the visibility of your skin concerns, leaving your complexion with a bright and youthful glow.
Here at Vivo Per Lei, we have several different face masks available. If you're not sure which Vivo mask would be the best choice for aging skin, here are our top recommendations:
The Best Vivo Mask for Aging Skin With Wrinkles & Dark Spots: The Activated Charcoal Facial Mask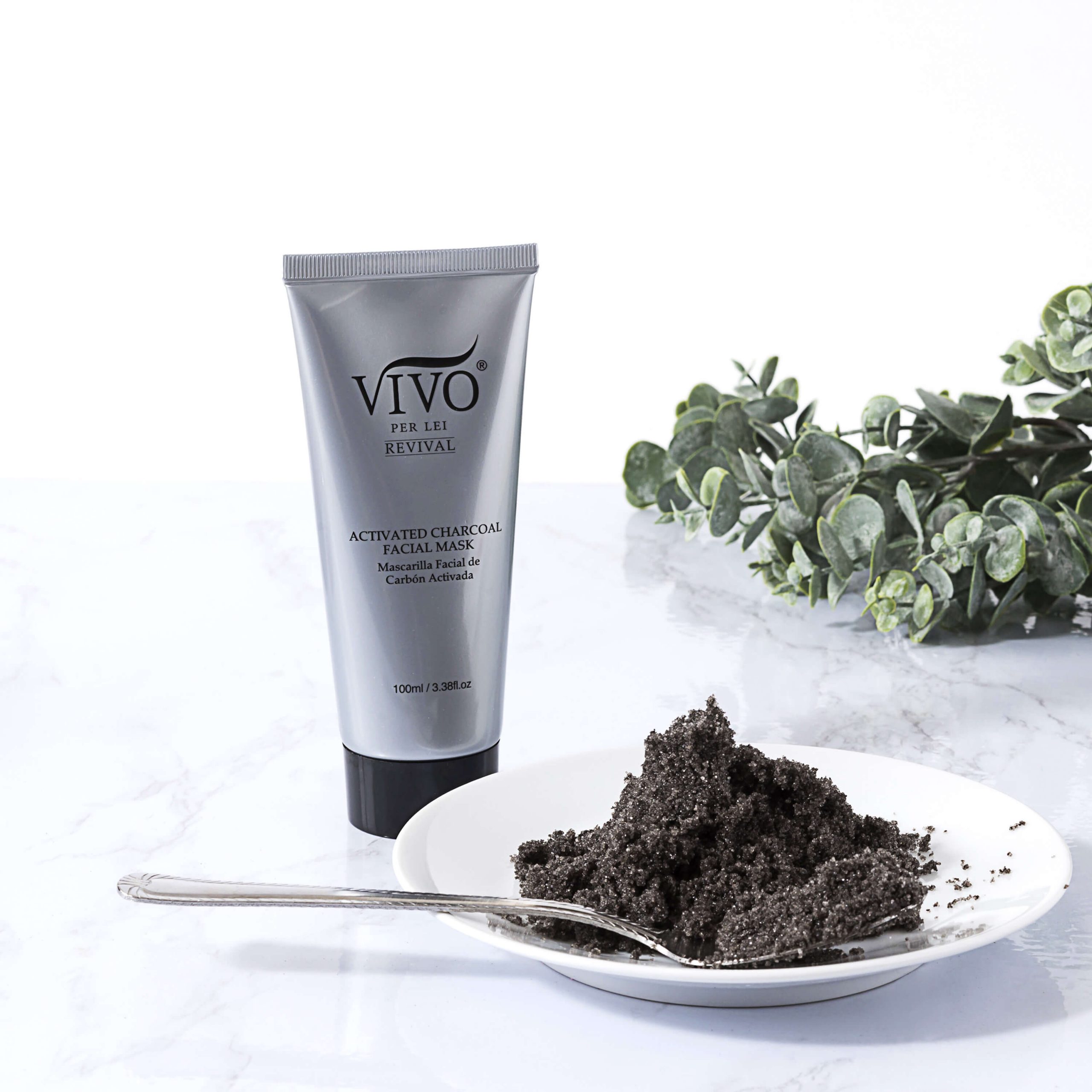 If you're looking for a mask that reduces the appearance of both wrinkles and dark spots, then the Activated Charcoal Facial Mask won't let you down.
As you can tell from its name, the star ingredient in this formula is charcoal. A natural ingredient that has been used for centuries, charcoal leaves the skin feeling deeply cleansed and detoxified. It has an exfoliating effect too, which is great for reducing just about every visible sign of skin aging.
However, in order to ensure that this mask really does deliver results when it comes to giving the skin a younger-looking finish, we've also jam-packed it with several other skin-loving ingredients. You'll find multiple vitamins, including A, C, and E.  It also contains sodium hyaluronate, a humectant that plumps up the look of the skin.
Add to this a few botanical extracts for their antioxidant properties and you have a formula that's capable of diminishing the look of aging in no time.
This Vivo mask should be used weekly for best results. Don't be tempted to over-use this one. While this isn't such an issue with some other masks, this one contains several potent ingredients. Overloading your skin could lead to side effects, so stick with the recommended guidelines.
The Best Vivo Mask for Aging Skin That Feels Dry & Rough: The Marine Revitalize Leave On Hydrating Mask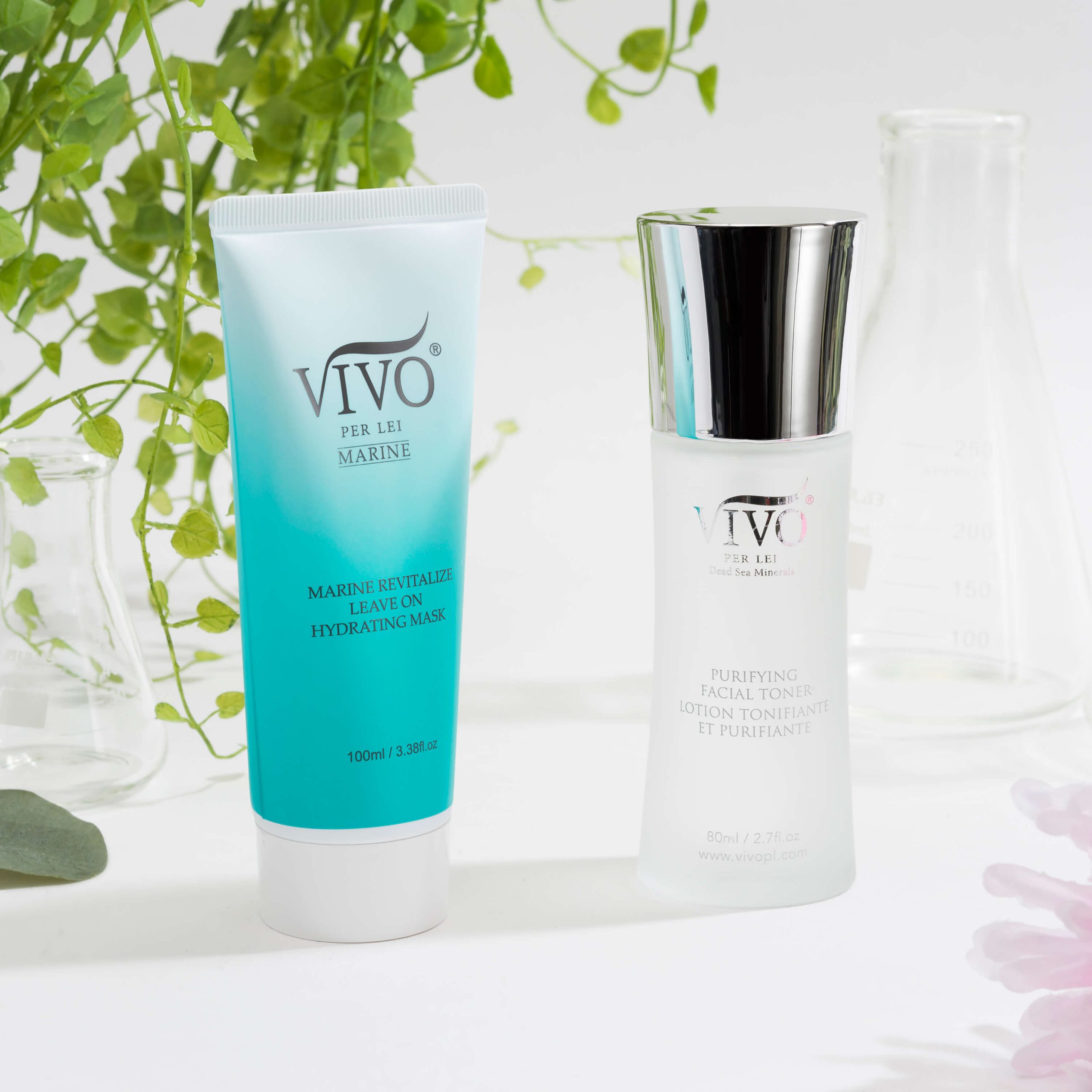 As the skin ages, it can begin to feel quite dry. This is down to a number of different factors, from the skin thinning out with age to the skin losing its collagen content. Either way, dry skin is no fun to deal with, especially since it makes fine lines and wrinkles look so much more noticeable.
So, if you'd like to treat your skin to a Vivo mask that'll leave it feeling soft, smooth, and deeply moisturized, turn your attention to the Marine Revitalize Leave On Hydrating Mask.
That's right, it's a leave-on mask, meaning that you won't need to rinse it off your face. Instead, simply slather it on and leave the ingredients to soak in.
Speaking of ingredients…
This Vivo mask is bursting with super hydrating compounds. Red coral seaweed, brown algae, green algae – these ingredients may not sound very glamorous, but they're among the best when it comes to hydrating the skin.
Seaweed is also loved for its nutrient profile. You probably already know that it's classed as a superfood, and those same nutrients can benefit your complexion when the ingredient is used topically.
This mask is best used once or twice a week. While you can use it a little more frequently if your skin feels ultra parched, keep in mind that it's quite rich. Your skin may start to feel a little suffocated if you start using it every night!
The Best Vivo Mask for Dull Aging Skin With Fine Lines: The Magnetic Deep Hydration Mask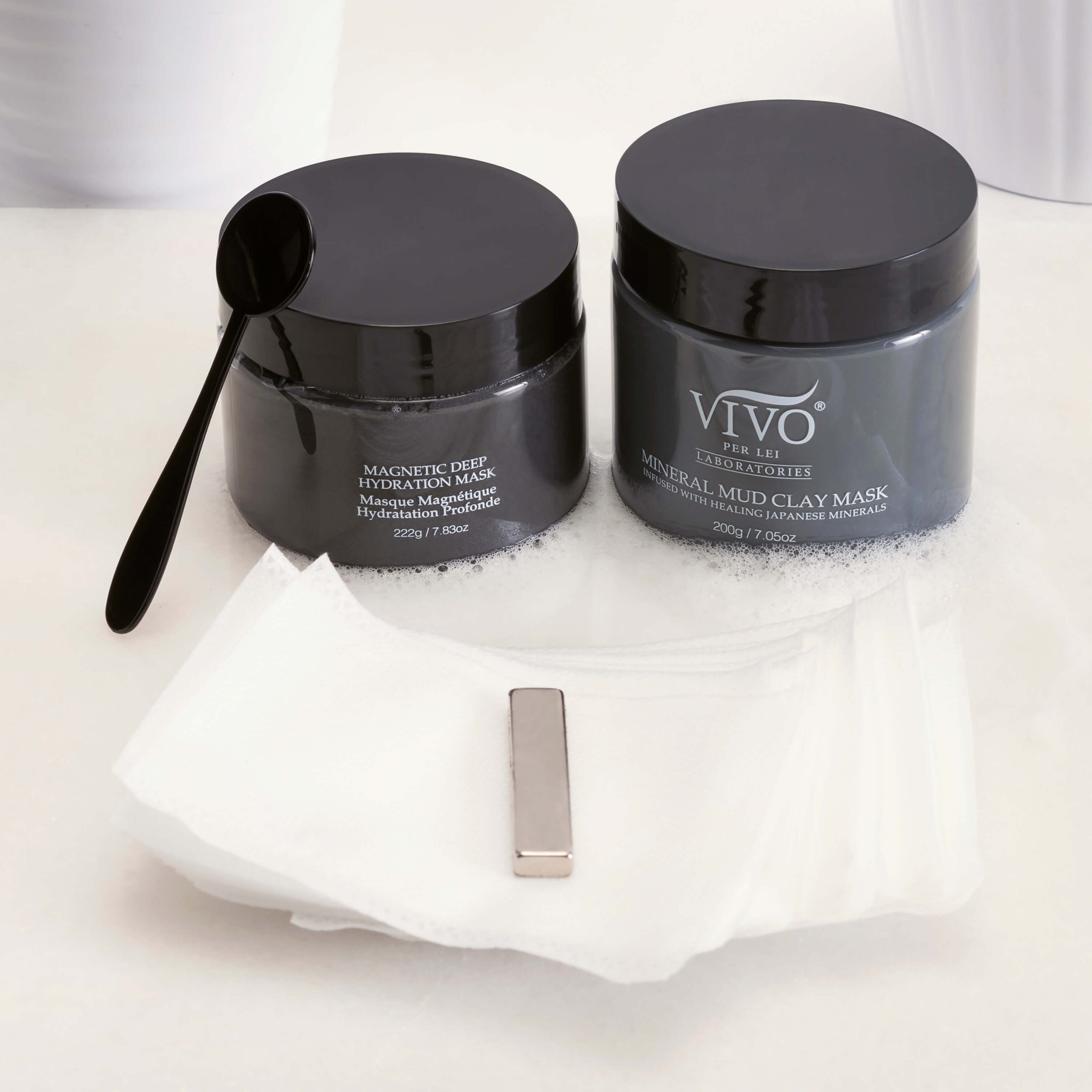 Fine lines may be an inevitable part of life. However, that doesn't mean that we have to welcome them with open arms. It's completely normal to want to retain your youthful appearance for as long as possible, and the Magnetic Deep Hydration Mask will help you to do just that.
It tackles the appearance of fine lines with its roster of antioxidants. Resveratrol, hemp seed oil, rosemary, coral seaweed – all of these ingredients helps to minimize the look of fine lines and even deeper wrinkles.
Those same ingredients also help to brighten the complexion. This can help with the look of dullness that so often accompanies the aging process.
What makes this mask extra special is its application process. It looks just like a regular thick mask at first, and feels like that when applied. However, once you've left the mask to soak in for 10 minutes, you don't rinse it off.
Instead, you take the magnet that comes in the box with the mask and insert it into the provided sachet. Then, you hover this over your face and watch in amazement as it lifts the mask off! Swipe it over a few areas of your face before giving the magnet a quick wipe. Then, return it to your face to continue removing the mask.
The removal process only takes a minute or so. Once you're done, you'll be left with a layer of a serum on your skin. Simply massage this into your skin like you would any other serum. It'll give your skin an extra dose of goodness, as it's packed with all of the ingredients that we mentioned above.
The Best Vivo Mask for Aging Skin With Bumpy Clogged Pores: The Fresh Eucalyptus Facial Mask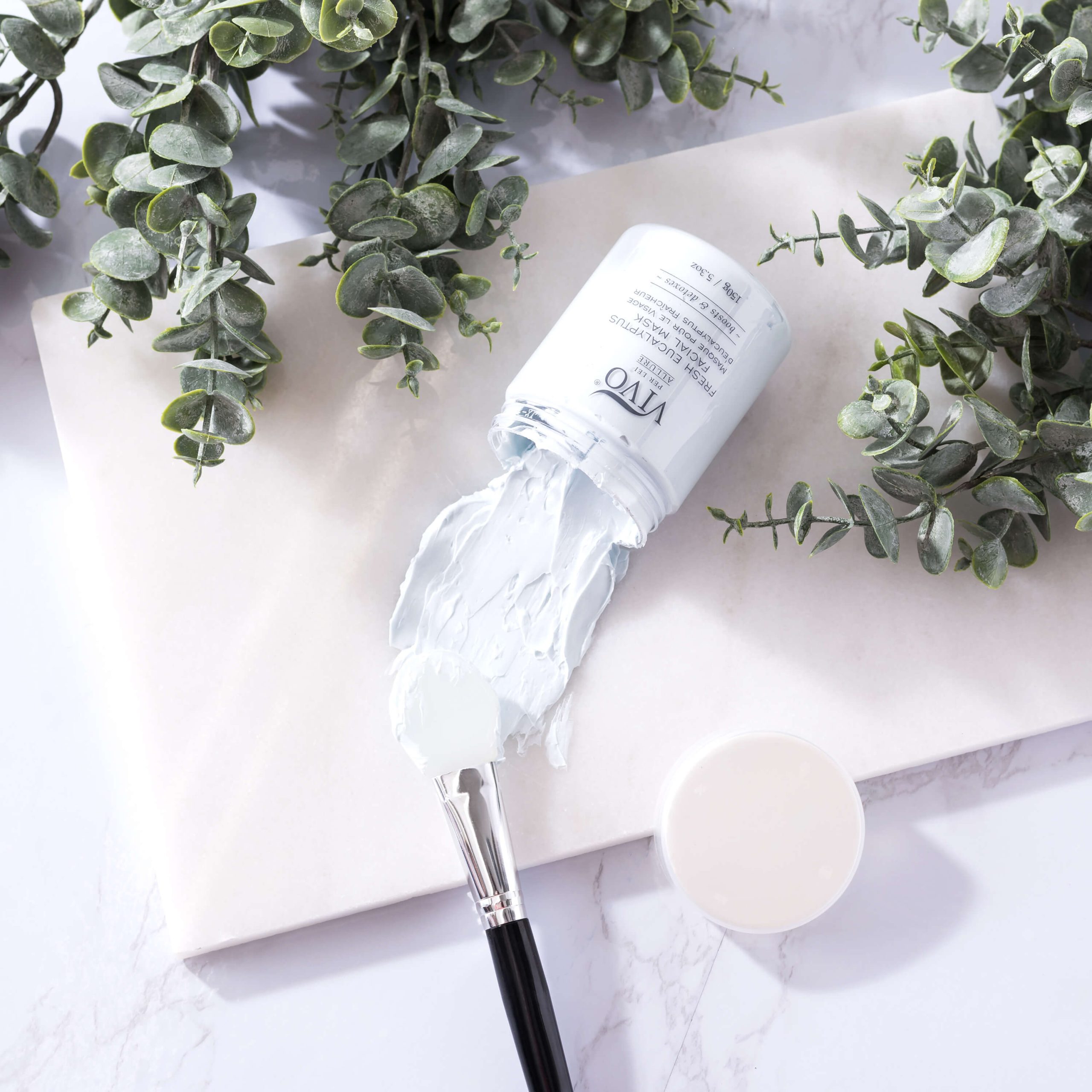 While some people experience extreme dryness when their skin starts to age, other people deal with the opposite issue; clogged pores with bumps and breakouts.
There's a reason for this; hormones. As the human body ages, hormones fluctuate. This is especially the case for women. As a result, the skin can sometimes start to produce excess sebum, which leads to clogged pores and a bumpy and inflamed complexion.
There are various ways in which you can deal with this, but one way to reduce the appearance of those bumpy clogged pores is to slather your skin in the Fresh Eucalyptus Facial Mask.
This Vivo mask is mud and clay-based. Canada glacier mud and kaolin clay come together to draw impurities away from the skin, leaving the complexion smooth and clear.
We've also infused this mask with ingredients that'll leave your skin feeling soothed and less inflamed. From aloe extract to ginkgo extract to rosemary leaf oil, this product is packed with skin-loving botanicals.
Of course, the star of the show is eucalyptus. It's an ingredient that's known for reducing the appearance of breakouts, as well as the visibility of dark spots and dull skin. Plus, it smells gorgeous too, which makes this mask feel even more luxe!
This Vivo mask has been designed for weekly use. Being a clay mask, over-using it could leave your skin feeling dry. That said, if your skin is super-oily, you may want to use it twice a week to prevent your skin from feeling too greasy.
The Best Vivo Mask for Aging Skin That's Losing Firmness: The Crystal Gold Face Mask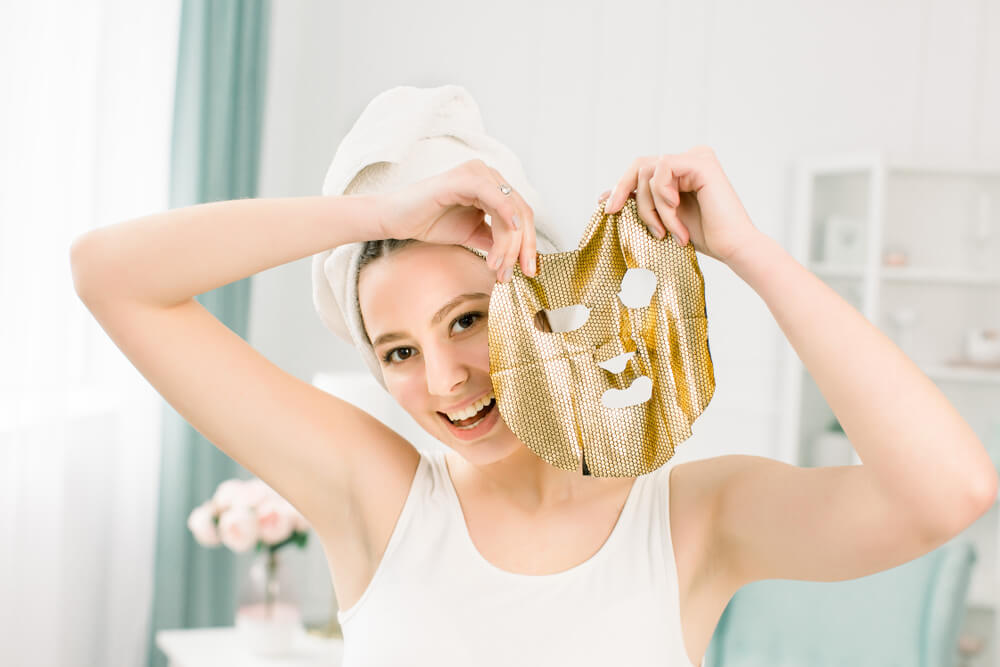 One of the biggest issues that people face when they age is the loss of firmness in the skin. This happens due to the degradation of collagen and elastin, the two proteins that give your face its volume and smoothness.
There are several products out there designed to firm and plump up the appearance, but the Vivo Per Lei Crystal Gold Face Mask is one of the best.
This exquisite mask may seem overly decadent at first. However, it actually contains a surprisingly minimal ingredient list, yet one that's focused on giving the skin a plumper and tighter look.
The gold in this formula isn't just for show. Instead, gold is an ingredient that has been used for cosmetic purposes for centuries. It helps to brighten the look of the skin while reducing the appearance of fine lines and wrinkles.
In this formula, it's combined with collagen, which helps to hydrate and moisturize the skin. We've also included hyaluronic acid and aloe extract for the same purpose, plus chitosan and allantoin to soothe the look of the skin.
Since this Vivo mask is a face mask, it's super easy to use. Simply remove it from its packaging and place it over your face. Use your fingers to tap it in and ensure that it fits snugly over your facial contours. Then, sit back and relax for 15 minutes before removing the mask. Give your face a quick rinse before applying a moisturizer.
Where Should a Face Mask Fit Into Your Skincare Routine?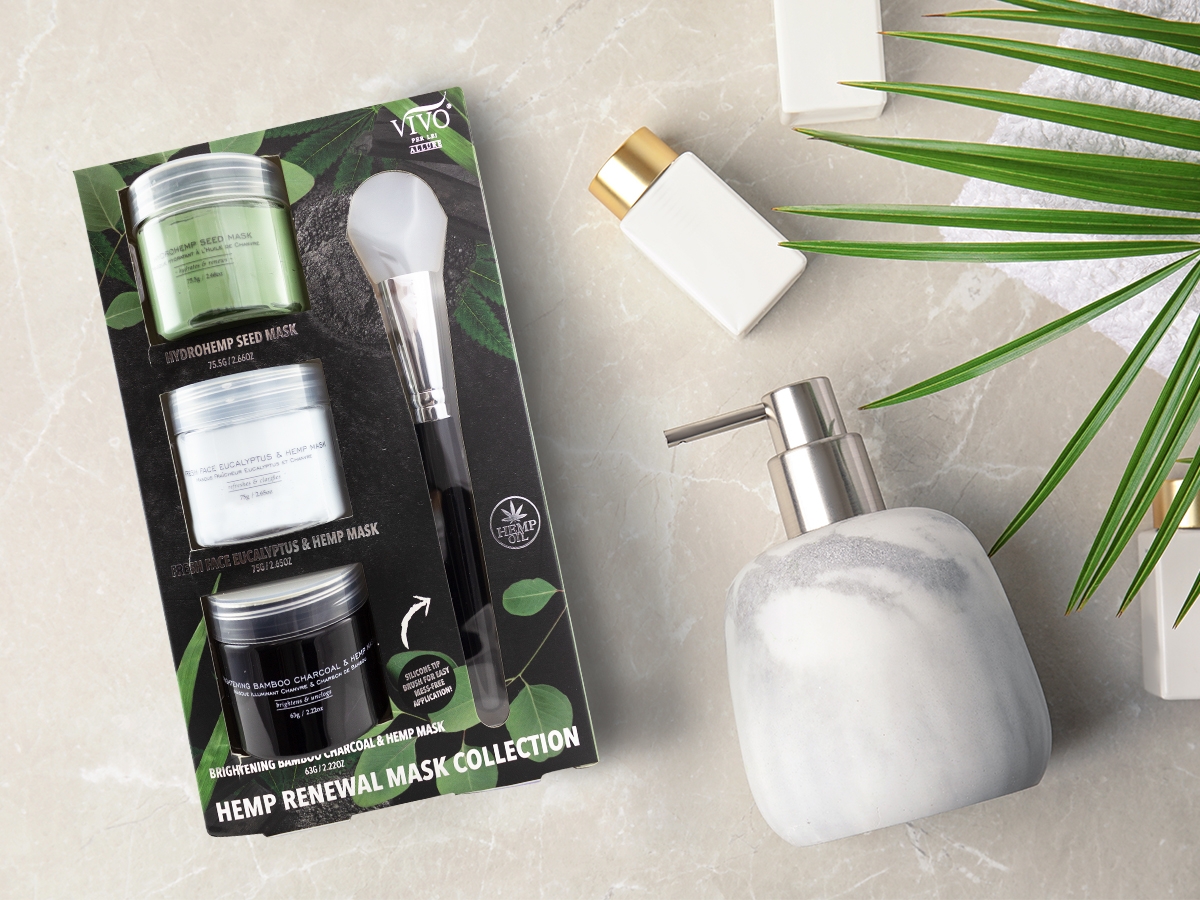 If you want to maximize the effects that your skincare products have, then it's important to use them in the correct order. No matter which Vivo mask you choose to use, you need to slot it into your skincare routine in the proper place. This will allow that formula to truly work its magic.
So, where does your Vivo mask come in?
Well, for starters, you need to cleanse. This removes any dirt and impurities on the surface of the skin, making it an essential step before applying any other skincare products. For this, we'd recommend going with the Foaming Facial Cleanser from Vivo Per Lei. Infused with Dead Sea minerals, this luscious cleanser perfectly complements all of the Vivo masks that we've featured.
Once you're done cleansing, make sure that you dry your face before applying your Vivo mask. Follow the instructions accompanying your mask for specific usage guidelines.
After masking, it's time to carry on with the rest of your skincare routine. If you'd like to keep things simple, round your routine off with a moisturizer. Here at Vivo Per Lei, we have several moisturizers to choose from. However, the Moisturizing Day Cream is a firm favorite among our many fans. This shea butter blend will leave your skin feeling velvety soft.
Of course, if you'd like to give your skin an extra treat after using a Vivo mask, then dab on a serum before applying your moisturizer. Our Men's Black Caviar Serum Capsules will make your post-masking routine feel even more special than usual.
Summary
As you can see, when it comes to choosing a Vivo mask, you have plenty of options. The key to ensuring that you pick the right product is to prioritize a few skin concerns. Whether this may be tackling the appearance of fine lines, dullness, or loose skin, decide what it is you want your mask to do before scrolling through your choices above.
Either way, when it comes to Vivo Per Lei, you can't go wrong. Our products have been formulated with high quality ingredients and the utmost integrity. This makes each and every one an amazing addition to any skincare routine.
Click here to browse more of Vivo Per Lei's bestselling products.
---